Stroll from Boston to Barcelona and beyond with tapas and heaps of paella.
Foodies and restaurant newbies alike love The Feed. Sign up now for our twice-weekly newsletter.
Spanish restaurants have a knack for turning mealtime from a "stuff food down your gullet and go" sprint to a social stroll down the menu. Grab a few friends and enjoy a table full of tapas — maybe flavorful grilled shrimp or croquettes stuffed with manchego — plus a few glasses of wine. So what's the rush? You can also order a saffron-rich paella. From a Somerville vanguard to a newcomer traipsing across the Iberian Peninsula, check out this itinerary of tapas and more.
Atlantic
The Iberian-inspired Atlántico sailed through the rocky waters of the pandemic and finally opened in October 2020. While the South End spot, helmed by Chef Michael Serpa, showcases an abundance of Portuguese wines, it's fair to say that most of the seafood-focused rate tables point a course to Spain. (But be sure to try the Linguiça hash on the brunch menu, which resembles the traditional Portuguese caldo verde soup). The shimmering interior matches the impeccable, pungent flavors of his plates, from the simple delight of the Matrimonio dish — just anchovies and olive oil — to the grilled Galician octopus, served with a bright salad of white asparagus and mint. Also make spring for the paella. Overflowing with seafood and chorizo ​​and a glowing golden hue thanks to the saffron, it's well worth the half-hour wait.
600 Harrison Ave., Boston, 857-233-2898, atlanticoboston.com.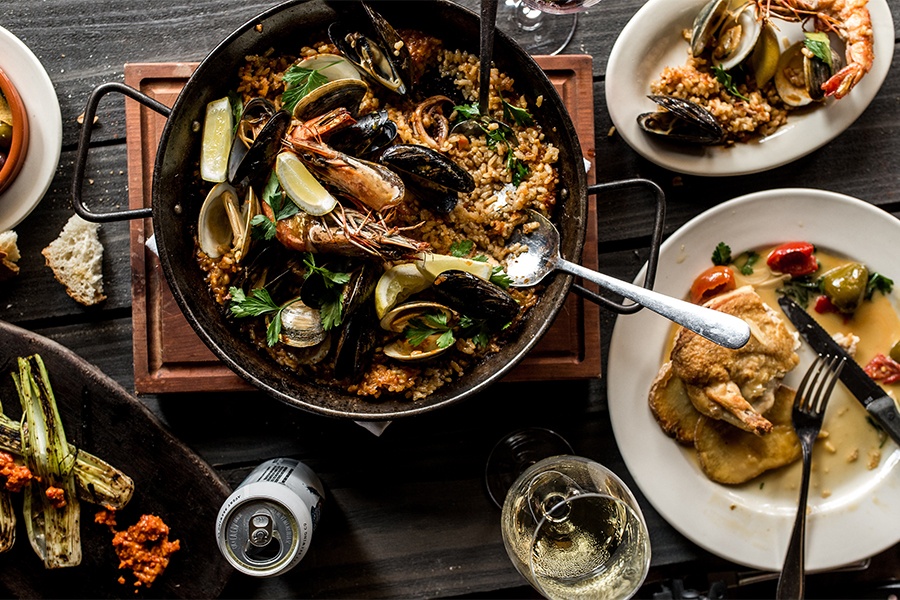 Barcelona wine bar
Sure, it's a chain with roots in Connecticut, but don't sleep on the singing aromas of Barcelona Wine Bar, with its abundance of sharing tapas and handfuls of larger plates. The star of the menu might just be the tangy-tart-sweet small plate with smoky chorizo ​​and caramelized figs. Topped off with a balsamic reduction, tipping the mini pot to your lips is all it takes to gulp down the rest of the sauce. Praise the jamón and manchego croquettes, too, with their dopamine hits of salty cheese, along with the bold simplicity of the roasted whole branzino, served just with fennel and potatoes.
1700 Beacon Street, Brookline, 617-264-8900; 525 Tremont St., Boston, 617-266-2600, barcelonawinebar.com.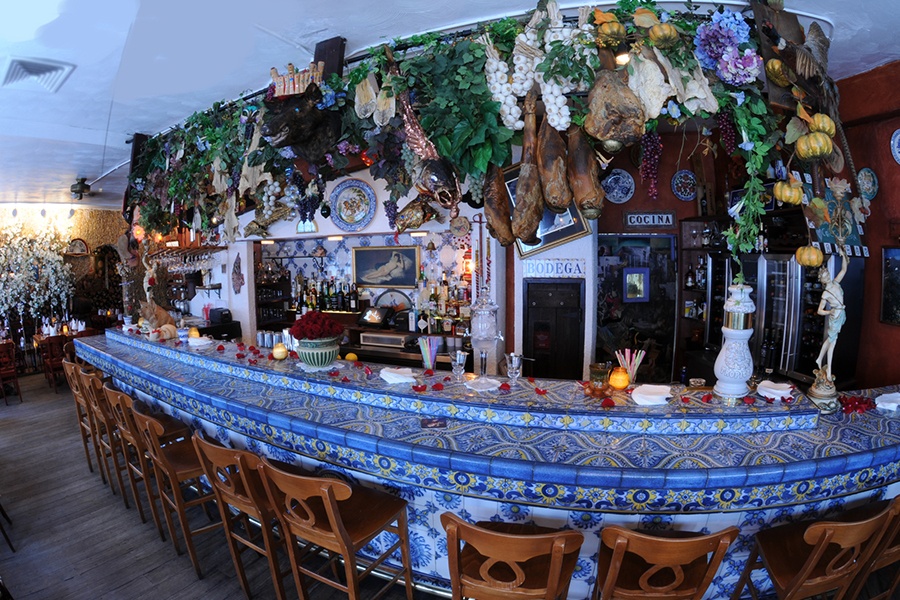 Dali restaurant
With an ornate vibe enhanced by the tin ceilings and a Salvador Dalí-inspired wall of "dripping" plaster, Dalí was among Boston's first Spanish spots, as the temple of tapas has been open since 1989. Try some of the quaint plates — the patatas bravas with smoky aioli, untouched sautéed spinach served with slivers of garlic and pine nuts, braised rabbit with red wine and an almost floral hint of juniper — and it's no surprise why. While it's tempting to fill up on these morsels (try the paella, too), leave room for dessert, even though it's just the churros with chocolate dipping sauce and dulce de leche. Each sweet bite is like ending your meal with a masterpiece.
415 Washington St., Somerville, 617-661-3254, dalirestaurant.com.
tarragon
You'll find the usual tapas talent at this South End eatery – the tough garlic prawns, the empanadas with artichoke, spinach and creamy Mahon cheese – but also a few creative riffs, perhaps best exemplified by the hamburgers de la casa will. Featuring Australian Wagyu beef, Spanish manchego cheese and crispy onions, the offering pays homage to chef/owner (and Madrid native) Julio de Haro and Australian-born co-owner Lara Egger. While many of the tapas draw from de Haro's family recipes, he's not afraid to think outside the box, like adding sesame miso and tomato chutney to the lamb sliders.
700 Harrison Ave., Boston, 617-266-0443, estragontapas.com.
Haro Tavern
Since 1998, chef/owner Deborah Hansen has been delighting with an extensive menu that stretches from the Brookline eatery's patio to across Spain, with tapas and unexpected appetizers. Try the Arroz Negro paella — perhaps a dark horse compared to the more locally available saffron-punched variety — which owes its jet-black beauty to squid ink. Also try the ever-changing specials, like the gazpacho made with mashed tomatoes, cucumbers, peppers and a drizzle of sherry vinegar to help cool off hot days. And make a plan to end your feast with some silky flan.
999 Beacon St., Brookline, 617-277-8272, tabernaboston.com.
tasca
Chef and owner Joaquin Galan brings together the flavors of his native Spain in his menu of traditional tapas and paellas. He also specializes in pintxos, or small bites usually served on bread, like the pinxto de txistorras. Homemade chorizo ​​- its paprika smokiness is only enhanced when you turn on the grill – paired with crusty crusty bread? Heaven. The six paella dishes range from simple fish dishes, to rabbit and vegetable variations, to a hearty Catalan stew called fideuà, made with angel hair and seafood in a lobster broth. Having a slow start to your week? The $5 tapas specials (4-6pm, Monday-Wednesday) with all those crunchy shishitos peppers and empanadas you can eat make it infinitely tastier to tide your way through the weekend.
1612 Commonwealth Ave., Brighton, 617-730-8002, tascatapasrestaurant.com.
toro
Ken Oringer and Jamie Bissonnette are a chef-owner duo who surpass themselves. Case in point: bulging Spanish tapas joint Toro, where plates may be small but flavors pack as you please. Stars on the menu include dates stuffed with Marcona almonds, blue cheese and Serrano ham, and roasted bone marrow with oxtail jam. The menu's emphasis on local ingredients and sustainability means some dishes are in flux, but be sure to try the mainstays from the Jamon & Queso section of the menu, including rich Ibérico ham with nutty Manchego cheese, made from sheep's milk becomes. At the top of the three major paella offerings, one is entirely vegetarian if you're not a meat lover.
1704 Washington Street, Boston, 617-536-4300, toro-restaurant.com.
Three cats
This gem in JP offers the unique experience of devouring tasty small plates and then eating at the back of the restaurant where you will find a small shop selling books and records. Before you indulge in retail therapy, though, cheer on some charcuterie (maybe some Serrano ham on Buzzard's Bay Cheddar slabs) on the patio. The tapas menu changes according to seasonal availability, although you'll usually find treats like pepper-stuffed shrimp, a delicate beet salad with whipped ricotta and passion fruit, and flavorful meatballs with silky manchego polenta. And the latest special of Basque sherry strawberry cheesecake? Sounds like music for the taste buds.
470 Center St., Jamaica Plain, 617-477-4851, tresgatosjp.com.