Between delicious tasting menus and inviting whiskey taverns, we have no qualms about dining alone.
Foodies and restaurant newbies alike love The Feed. Sign up now for our twice-weekly newsletter.
Believe it or not, some of us actually love to eat alone. Just think: no endless strings of texts trying to match dates and times with your friends, no haggling over which kitchens are off-limits. Also, sometimes you need a place to sip some whiskey after a breakup, or a place to enjoy a celebratory breather when you can't convince your non-foodie friends to pitch in. With this guide to great solo dining spots in Boston, we've got you covered for those occasions when you want dinner with the person on this earth you're most compatible with: that's you, boo!
tit
If you're looking for a getaway from the tourists in the bustling, bustling nearby Seaport, settle in here for Mediterranean-inspired cuisine and excellent cocktails. Chickadee is set back in an office and industrial park on the Southie border, nestled on the ground floor of the sprawling innovation and design building; Unless your friend already has plans to peruse some furnishing showrooms looking for a new couch or wallpaper, it might take a few arm twists to lure him all the way here anyway. (That means there's plenty of parking and a Silver Line stop nearby.) Well, her loss — and if you're dining alone here, you don't have to share the delicious small plates concocted by James Beard-nom'd chef hat -owner John daSilva. We've already pointed you to the magic of the fried chicken, but the octopus Alentejana is another winner – it's daSilva's version of a traditional Portuguese dish, and you won't find the hearty symphony of pork, octopus and little necks at many other places in the world City.
21 Drydock Ave., Boston, 617-531-5591, chickadeerestaurant.com.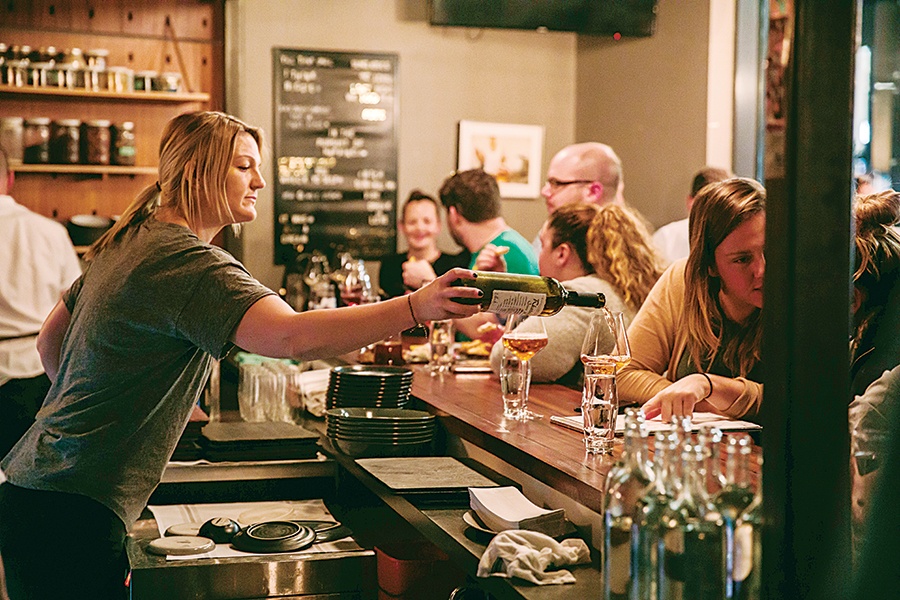 Haley.Henry
Those of us who get a stinky eye when ordering anchovies on a pizza know all too well that canned seafood can be quite divisive. Well, fellow sardine fans, take note: leave the haters at home and head to this pint-sized, Best of Boston-winning natural wine bar, which also happens to emphasize eclectic seafood dishes. These include small plates like an anchovy tartine with fennel, dill, and a sweet-savory red pepper jelly, as well as flavorful cans packed with more punch than Poseidon wielding a trident — the tender sardines in oil, for example, or steamed mussels in vinegar- Escabeche. It's a perfectly set-up spot to grab one of the few window seats at the bar or street-side, crack open a can of fish and sip a few small wines while 90s rap plays in the background. Yes, please.
45 Province St., Boston, 617-208-6000, haleyhenry.com.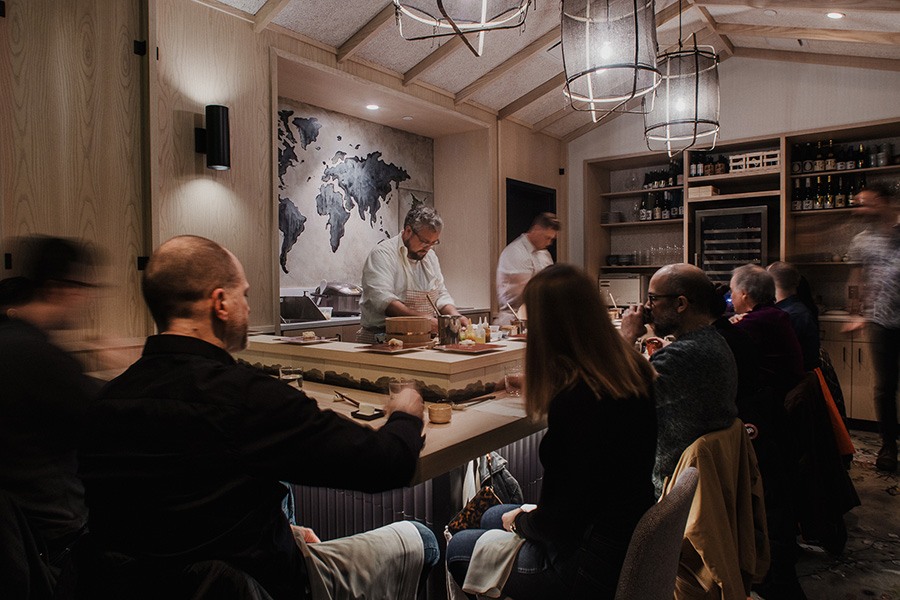 No relationship
Secret #1: The fact that this chic but subdued nine-seat sushi counter is tucked away in a restaurant at the back of the South End's tropical hotspot, Shore Leave. Secret #2: You can snag a single seat most nights, while larger groups usually need to book several weeks in advance. Plus, No Relation's omakase experience — about 14 courses of pristine seafood cooked right in front of you — is great for the solo dinner party who wants to indulge (it's $150 plus extra for exceptional wine pairings). and sake pairings). The menu changes nightly based on availability, but you can expect delights like European bass slivers with umeboshi puree and shiso leaves, or perhaps barracuda with black garlic and finger lime.
11 William E. Mullins Way (within Shore Leave), Boston, 617-530-1772, norelationboston.com.
Pho Le
There are some foods that you can order on a date and simply eat between moments of coy banter and flirty sips from your wine glass. Pho is not one of them. Rather, the huge, beautiful bowls of noodles and broth at Dorchester favorite Pho Le are a call to roll up your sleeves and be ready to cum as you slurp. Plus, you don't need a table neighbor to judge you when you inevitably tilt your bowl back to swallow the last puddles of silky broth. Just drive yourself to one of the window seats to enjoy Phở gà with chicken noodles or Phở bò viên with beef. If you want soul-warming comfort, they're the only company you need — well, maybe you'll invite the summer rolls with pork and shrimp or the dessert-like Vietnamese iced coffee to the party too.
1356 Dorchester Ave, Dorchester, 617-506-6294.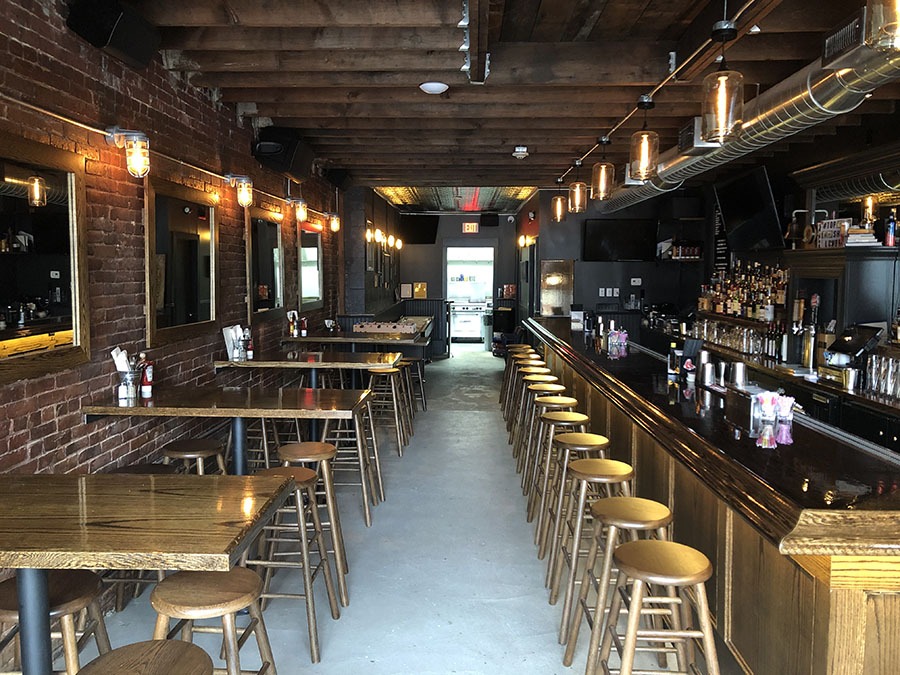 The quiet couple
The Quiet Few is a neighborhood whiskey tavern that offers the best of both worlds: On the one hand, it's the kind of place where people will leave you completely alone if you're just hanging out at the bar and playing with something Scotch and Scotch want to pursue a burger in your hand. On the downside, the people are so friendly that after sipping on some spicy pickle backs, you're bound to meet a new future wingman among the regulars. At the very least, you might meet another whiskey freak to discuss the novel-length menu, which includes highlights like the Yamazaki 12 Year, a Japanese bottle with subtle notes of honey and coffee. Otherwise, though, enjoy people-watching and kicking back with a drink and bar snack of Disco Poutine Fries with cheese curd, Cheez Whiz, and chicken gravy. There's enough to share – you'll know if you decide to do it.
331 Sumner St., East Boston, 617-561-1061, thequietfew.com.
tasting counter
If you're resentful that your hybrid work schedule has to report you back to the office, at least treat yourself by ending the workweek with a lunch break of haute cuisine: alongside the fuller fanfare of dinner, Peter Ungár's best-of-the Boston award-winning 20 seat restaurant offers a one hour three course lunchtime tasting menu on Thursdays and Fridays. (A delicious, two-hour, nine-course lunch is served on lazy Saturday afternoons.) They gather at Ungár's U-shaped counter for a front-row view of the ever-changing dishes, like branzino, with black trumpet mushrooms, being prepared. As with No Relation, the limited seating is reserved like show tickets, meaning it's often easier to sneak in on your own and let a homemade bouillabaisse carry you through the rest of the workday.
14 Tyler St., Somerville, 617-299-6362, tastingcounter.com.
Three cats
Does it sound like a perfect time for me to visit a book store, a record store and a tapas restaurant all in one place? Great – you'll find all three under one Victorian roof at Tres Gatos. First peruse the back storey lined with crates of vinyl albums and shelves of novels, then head into the dining room and indulge in a newly purchased tome and superb tapas and pinchos – shall we say, roasted beet salad with whipped ricotta, passion fruit and pistachios- Dukkah, or dates stuffed with blue cheese and almonds.
470 Center St., Jamaica Plain, 617-477-4851, tresgatosjp.com.
Yume Wo Qatares
After diners have cleaned their bowls at this small, countertop ramen shop in Cambridge, they have a chance to stand up and share one of their hopes, goals or aspirations with the entire restaurant, and then bask in the applause of the kitchen. It's a fun, heartwarming tradition, and let's face it: sometimes it's easier to confess our dreams to strangers than to people who know us well. So try it on your own – last but not least, you get a good story and some of the absolute best ramen in town, with pork broth that cooks for 14 hours. Added perk? You can get the extra garlic for your ramen because if you slurp alone you don't have to worry about hitting your date with anti-vampire breath (also check out Yume Wo Katare's Instagram for the latest ticket updates) Find pop-ups with guest chefs. )
1923 Massachusetts Ave., Cambridge, 617-714-4008