The coastal oasis at the end of the world lures with raw bars, perfect pizzas and all the frosés you can endure.
Foodies and restaurant newbies alike love The Feed. Sign up now for our twice-weekly newsletter.
Let's get one thing queer, um, straight: Among Provincetown's (many) draws — the "everyone welcomes" vibe, the natural beauty, the nightlife that draws queer people from around the world — you can add one to the list as well add excellent cuisine. Here are some top spots to visit on your next visit to the tip of the cape.
cafe heaven
Get there early, before the night owls wake up, and head to this New American eatery that serves some of the best brunch in town. The "Heaven" name is right there, but the delights feel downright devilish — from the tall stacks of raspberry pecan pancakes brushed with butter, real maple syrup, and powdered sugar, to the wistful French toast with cornbread. Go all out or pair half-orders with savory brunch favorites like Lobster Cake Benedict. Plus, with floor-to-ceiling windows overlooking Commercial Street, you can sip mimosa and watch some of the best people in town.
199 Commercial St. #10, Provincetown, 508-487-1991, cafeheavenptown.com.
The canteen
This old Cape Cod-influenced urban institution distorts reality. How else to explain the strange magnetic pull of the Frosé machine twirling happily behind the front counter where you order food? You were (innocently!) on your way to grab an iced coffee pick-me-up from Kohi, and next you're sitting on Canteen's expansive living room back deck overlooking the water and asking people if you can pet their dogs . Chase frosé with dishes from the New England with-a-spin menu – say grilled crabrangoon cheese, clam chowder and freshly shucked oysters. Plus, don't leave without ordering their legendary crispy Brussels sprouts in fish sauce. The hours pass and suddenly it's sunset. You might as well stop texting all your friends how much you love them and order some homemade whoopie pies and fluffernutter cookies. Just don't blame the Frose. All she wants is for you to have a good time.
225 Commercial St., Provincetown, 508-487-3800, thecanteenptown.com.
Ciro and Sal
Sick from the coast? Head to Ciro and Sal's for a first class ticket to northern Italy. Enjoy huge pasta dishes in the wine cellar's chic dining room, with its pretty brick walls and exposed beams, or in the garden gazebo. Highlights include the chicken piccata — the fresh garlic is so worth the extra gum, you'll have to pop it before hitting the dance floor later — and the silky carbonara. And the homemade traditional marinara? So perfect, you'll shed tears as you remember the rolling hills of Piedmont, even if you were closest to Italy when the 2003 heist The Italian Job flicked over a few dominoes (again) during the pandemic.
4 Kiley Court, Provincetown, 508-487-6444, ciroandsals.com.
Crown & Anchor
When news broke a few years ago that this downtown restaurant, hotel and entertainment complex was up for sale, the city held its breath. Like a million other queer places across the country, this place would most certainly be closed and reborn as a "Boutique Sub-Brand by Hospitality Giant Presents the Crown & Anchor." Luckily, townspeople Jonathan Hawkins and Paolo Martini walked in and bought the place in late 2021, set sail and set course for stranger waters. Between the restaurant, recently refurbished inn and lounges (including six bars) and a robust entertainment programme, you can pretty much spend a whole weekend at anchor on the Crown. For lunch and dinner, head to Balena, the on-site restaurant helmed by Executive Chef Raina Stefani, and choose perfect calamari with mushy peas, pan-seared duck breast, and littleneck toast with pancetta. Also, head ashore to swim to the weekend's Divas by the Sea drag brunch, where you can indulge in an all-you-can-eat buffet while powerhouse drag artists Roxy Pops, Lakia Mondale and Mackenzie make waves.
247 Commercial St., Provincetown, 508-487-1430, onlyatthecrown.com.
The Mews Restaurant & Cafe
While Sarah Paulson munched on landscapes here in last year's Provincetown season of American Horror Story—co-creator Ryan Murphy has a home in town—you can drop by to munch on the excellent New American cuisine. Close your eyes and point to anything on the menu and you're likely to love your fated fare. The standouts, however, are the heavenly lobster dumplings in a ginger-lemongrass broth and the Colorado lamb chops marinated in rosemary. Not to mention the garlic and herb breadsticks with clover honey and homemade citrus and truffle salted butters that are just… *chef's kiss*. Since you're probably snacking on seafood non-stop, opt for the bold and flavorful Mews Vindaloo, served with rice, chutney and crispy naan with those perfect grill marks. Also, save room for the key lime pie with mango coulis.
429 Commercial St., Provincetown, 508-487-1500, mewsptown.com.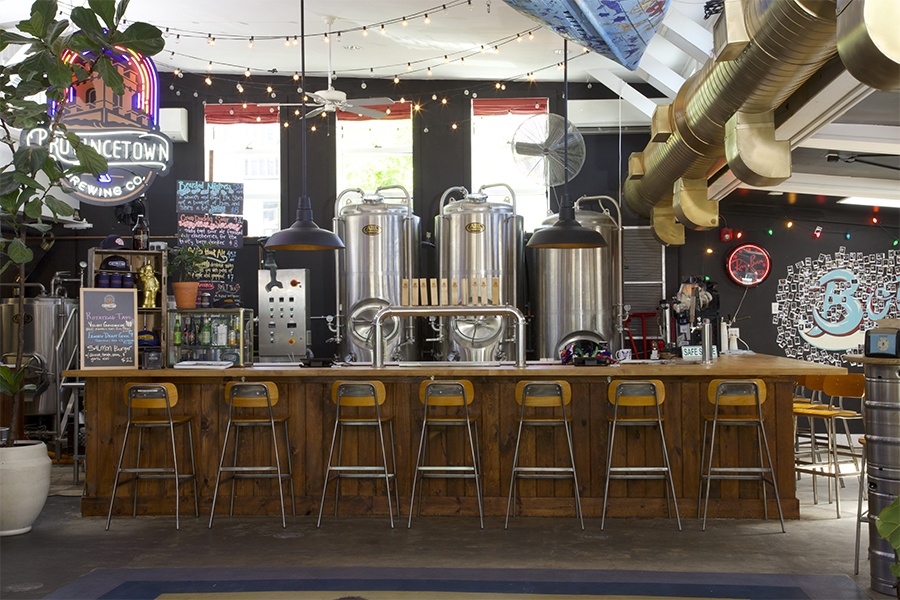 Provincetown Brewing Co.
Thanks to their Draft Ivism program, where 15% of all profits go to charitable partners like the Center for Coastal Studies and the AIDS Support Group of Cape Cod, beating the city's only local brewery counts as essentially philanthropy. In other words, order multiple rounds at once and toast with a succulent Double Rainbow IPA and refreshing and crushable Golden Hook Ale. The menu takes a cue from the homey pub grub everyone loves, like the Kicking Jerk Chicken Sandwich with homemade coleslaw, a few lighter salads, and the new PBCo burger, which topped an 8-ounce patty of ground roast beef and tenderloin with cobalt cheddar and chipotle aioli, served on a brioche bun. And since the brewery is one of the liveliest haunts in town — between trivia nights, movie nights and the "Hey, this is all the lesbians in town!" Sunday Dyke Dock parties — bring your best buddies along and pour over them divisible plate. Huge sticks of fried mozzarella beckon with gooey goodness and the artichoke cakes might make you want to ditch their crab cousins ​​for good.
141 Bradford St., Provincetown, 508-413-9076, Provincetownbrewingco.com.
Rosie's cantina
With surprisingly robust breakfast offerings, larger entrees and quick street food, you can peruse Rosie's menu for every meal and never miss a thing. Start your day with scrambled egg dishes like the huevos con chorizo, which combines eggs and smoky chorizo ​​with rice, refried beans, and three corn tortillas. Other offerings hit all the staple groups: cheese (the melty and beautiful quesadillas awaiting a guac dunk); meat (the enchiladas stuffed with shredded chicken and topped with your choice of sauce); and rice (the burrito bowl with the Mexican rice that's so good you could skip the toppings). With a bit of luck, the homemade mole enchilada will be the special of the day.
331 Trade Street, Provincetown, 713-440-9996.
The Red Inn
Hours are infinitely happier during happy hour at this historic inn's Raw Bar, which runs daily from 2:00 p.m. to 4:00 p.m. Enjoy stunning ocean views and frequently rotating ceviche specialties, plus Wellfleet oysters and mussels for $1.50 each, best washed down with an Earl Gray-infused gin tea tini. Or, if you like your cooking to be kissed with a little heat, try the chicken liver pate with all the trimmings and the mix-and-match sliders with Kobe beef, lobster and crab among the mini bites.
15 Commercial St., Provincetown, 508-487-7334, theredinn.com.
ghost pizza
Please consider this my petition for Spiritus to win a James Beard Award in the category Outstanding Restaurant for Nighttime Drunken Gay Hordes: Northeast. When the bars close at 1am, the staff at Spiritus crouch with incredible grace and dish out perfectly thin and crunchy pizza to the masses. Slices at the checkout are cheap: $3 for cheese, $4 for pepperoni, and the killer greek with black olives, feta, onions, and spinach. But what they lack in the city's absurd price inflation, they make up for in million-dollar flavor. And head to the quiet and casual back garden for cheap dinners (a breather after dropping $100 on two rounds of planters at tea dance). Grab a pie — say, the spirit special with veggies, linguiça, sausage, garlic, and (trust us) anchovies — and wash it down with a heady espresso shake.
190 Commercial St., Provincetown, 508-487-2808, spirituspizza.com.
bonus
Since everything in Ptown is more than a little extra, here's a quick hit list of where else to eat.
Portuguese Bakery in Provincetown
On Sundays, order a malasada, or fried dough tossed in sugar. Eat your malasada on the street. Dust the sugar off your hands. Turn around and order three more malasadas right away.
299 Commercial St., Provincetown, 508-487-1803, Provincetownportuguesebakery.com.
Irie eats
While this Jamaican restaurant has temporarily switched to catering orders (thank you Pandemic), we're regularly updating Instagram for updates on when we can stop by for more exceptional goat curry.
70 Shank Painter Rd., Provincetown, 508-863-3584.
Provincetown Inn
I don't care how much of a foodie you are. Head to the hotel's poolside grill, order a plate of chicken breast and fries, and a frozen mudslide. Eat and drink by the pool with your feet in the water. sigh of happiness.
One Commercial St., Provincetown, 508-487-9500, Provincetowninn.com.
Provincetown Fudge Factory
"I'm just stopping by for a peanut butter cup," you say, then grab an ice cream and leave with $30 truffles, caramel turtles, and dark chocolate sea salt caramel pretzel crust.
210 Commercial St. B, Provincetown, ptownfudge.com.
Pop + Dutch
Before heading out on the long trek to Herring Cove Beach, indulge in chic sandwiches and salads, with the Agent Dale Cooper Sandwich (turkey breast, cheddar, avocado, pickled shallots, and more) offering spikes in flavor.
147 Commercial St., Provincetown, 774-538-6472, popanddutch.square.site.