It's no secret that Boston's real estate market presents a lucrative opportunity for would-be real estate agents. But how do you get started? Brokerage licenses, surety bonds, classes, and exams: it can be a bit overwhelming at first.
First of all, What's the Difference Between a Real Estate Salesperson, Broker, and Agent?
Like many fields, real estate has its own vocabulary. While it can be confusing at first, it's actually pretty straightforward. A real estate broker can work for themselves and/or run an office and have agents under their license. A real estate salesperson has to work under a licensed broker as their agent. Of course, both salespeople and brokers use the term "real estate agent" to describe their job, so it can get confusing!
Luckily, there's a clear path no matter what you want to do. Whatever your ultimate goals, you'll start out as a salesperson. After you have three years under your belt, you can get licensed as a broker, if you wish. If you decide you would like to become a broker you will have to take a second more extensive test in order to achieve that goal.
A Comprehensive Guide to Becoming a Real Estate Broker in Massachusetts
Step 1- Take The Required Pre-Licensing Courses
Here's where the licensure process really begins for real estate. In order to get your real estate license in Massachusetts, you must begin by taking a 40-hour pre-licensing class at a certified Massachusetts real estate school. (This is a relatively new standard—in years past, you only needed to take a 25-hour course before sitting for the exam.) Find a list of licensed schools here.
There are real estate schools in cities and towns across Massachusetts. Some offer a week-long program where you attend class Monday through Friday, 9am to 5pm. That's the fastest way to crank out the course, but also assumes you don't have other obligations to attend to during the day. An alternative option is to attend a part-time course. There are less intensive courses that run at night or on weekends, but these usually take longer to complete. Find a program that fits well with your schedule.
As of October 2016, you can even take real estate classes online. Not all real estate schools offer this option. Online courses must be approved by the State's Licensure Board in advance, and they require courses to be taught in a real-time classroom setting. In other words, all students must be able to interact with their teachers in real-time. Instructors may use some pre-recorded materials as a substitution for otherwise interactive online learning.
In terms of costs: most real estate license courses in Massachusetts cost between $300 and $500. Those with a keen eye might be able to find a deal on Groupon, but those deals are usually only eligible for certain courses, in certain locations, at certain times. But nonetheless, you might be able to score a major discount this way!
You want to work with a real estate school that has a high percentage of students who actually pass the licensing examination. Real estate schools with good numbers typically post the figures as part of their marketing efforts. A good rule of thumb is a pass rate of 90% or higher. At this point you may be wondering what you will learn in your pre-licensing classes. You're going to learn about the various aspects of real estate from both a financial and legal perspective.
You will also learn about the various real estate practices and principals. The bottom line is that you'll learn everything you need to get started as a real estate agent in Boston. Once you're in the job, a good brokerage with extensive training classes can teach you the rest. Do not let the vast amount of information scare you. Keep in mind that you probably don't have any prior knowledge of real estate prior to taking the classes. That being stated, you're responsible for learning the information. You need to prepare yourself to get the most from each and every class. In the end, you're the one that needs to pass the real estate licensing examination.

What to Expect in the 40-Hour Pre-Licensing Course
Most classes, whether you're enrolled full-time or part-time, in-person or online, will follow the same general format. You'll start by learning basic real estate vocabulary. The real estate exam is loaded with vocabulary (some of which, to be honest, you'll never use again!). Then you'll start to learn about the rules, regulations and procedures you're expected to follow as a real estate salesperson in Massachusetts.
Sprinkled in along the way are several case studies and guest presentations. This is one of the most interesting aspects of real estate school. Guest speakers will usually talk about their unique experiences: How did they get into the industry? What are the qualities of a great real estate agent? What is life like as a real estate agent? They'll often tell real-life stories that focus on the material you're learning in class.
Throughout the program, your instructor will give you several diagnostic quizzes to determine how well you're absorbing the course material. Usually, the in-class quizzes are designed to look and feel very similar to the questions you'll be asked on the real estate exam. Towards the end of your real estate program, your instructor will administer a full-length real estate exam to prepare you for the test. You and your classmates will spend some time reviewing the test on the last day. That way, the instructor can provide additional clarification about topics that are still a bit fuzzy.
On your last day of the program, assuming you've attended all 40-hours, you'll receive your certificate of completion. The certificate requires three people (non-relatives) vouch for you in terms of your character, but this is generally an easy requirement to meet.
Step 2- Apply For The Massachusetts Real Estate License Examination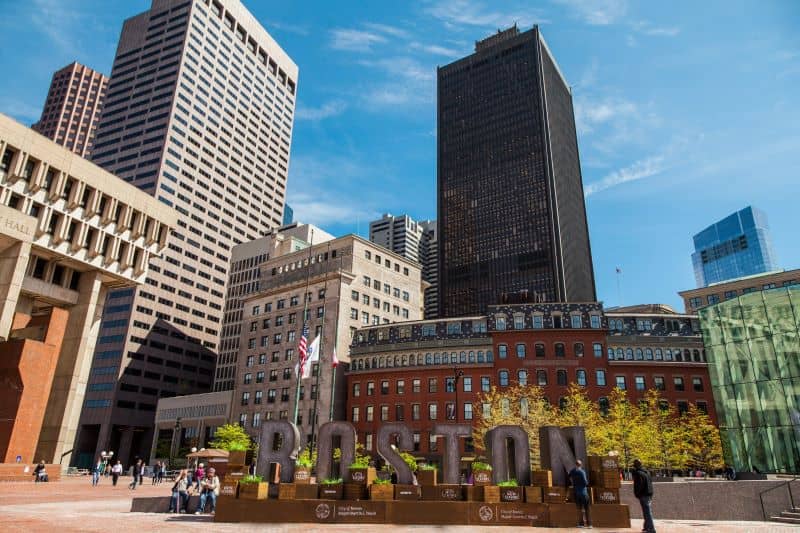 The next step to becoming a real estate agent in Boston is to apply to take the licensing test. You cannot apply to take the test until you complete the following procedures….
-Show proof that you're 18 years old or older
-Submit a form that proves you have completed the 40 hours of pre-licensing courses within the last 24 months
-Submit a minimum of three (3) character references from non-family members
-Provide a valid Social Security or Tax ID number
-File all Massachusetts state tax returns and pay all state related taxes
-Pay the application fee of $31
-Pay the examination fee $54
As soon as you've been approved to take the Massachusetts real estate license examination, you can go online to schedule your test with PSI. You also have the option to sign up for the test by email or phone. It's important that you make sure to spell your name precisely how it appears on your driver's license or official identification. The Massachusetts real estate license testing sites are located in Auburn, Charlestown, Fall River, Lawrence, and West Springfield.
NOTE: You must take the real estate licensure exam within two years of completing the pre-licensing class. Otherwise, you'll need to re-take the 40-hour course.
Step 3- Study For The Massachusetts Real Estate License Examination

In order to become a real estate agent in Boston, you're going to need to study for the Massachusetts real estate examination. The examination is based on a comprehensive collection of information that you learned during the required pre-licensing courses.
The real estate examination is broken down in two sections.  First is the National portion of the test which covers real estate laws and practices that are utilized across the country. The National section of the examination is made up of 80 individual questions. The questions must be answered within a 150-minute timeframe. The second section of the real estate exam is the State portion of the test that you will need to study for. It covers real estate laws and practices that are practiced in the Commonwealth of Massachusetts. The State section of the examination consists of 40 individual questions. The questions must be answered within a 90-minute timeframe. 
The real estate school where you took the pre-licensing courses may or may not supply you with study materials. Typically speaking, the higher-priced schools do include study materials that will help prepare you for the test. You should read the fine print before deciding on which real estate school to use. If your pre-licensing courses package doesn't include study materials, you may be able to purchase them separately. If your real estate school doesn't offer study materials, you can purchase them online.
Keep in mind that the real estate classes on their own usually aren't sufficient for most people. Most people need to spend more than the 40-hour program studying for the exam. As mentioned above, the real estate exam is loaded with complex vocabulary. The test is also riddled with legal terms, state regulations, and math problems. One of the best ways to study for the exam is by getting your hands on a Massachusetts-specific set of real estate vocabulary flash cards. These can be purchased online or via app (Quizlet is one source).
Step 4- Pass The Massachusetts Real Estate License Examination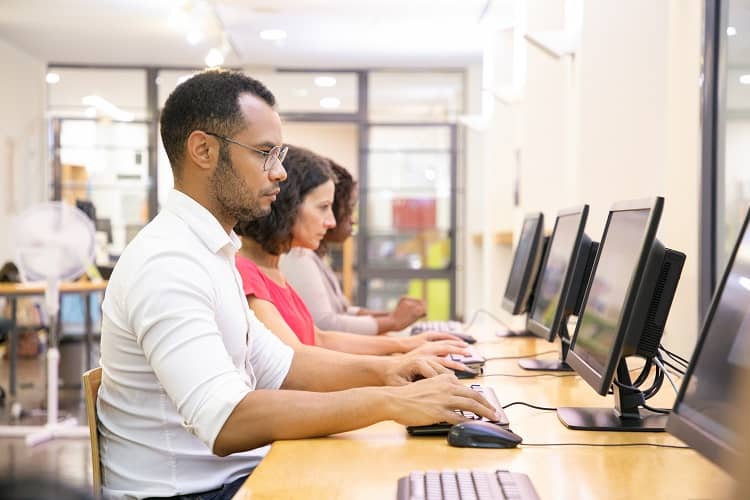 In order to become a real estate agent in Boston, you're going to need to pass the Massachusetts real estate examination. As mentioned above, the Massachusetts real estate license examination is 120 multiple-choice questions. You have a total of 240 minutes to complete the test. The examination will cover topics that are based on both state and national laws and real estate practices. The examination is administered by computer at an official testing location. You should show up early. It's highly recommended to appear at least 30 minutes before your test time. Make sure that you bring two (2) valid forms of identification.
You will need to show a government issued photo ID and a credit/debit card or social security card. Please keep in mind that neither school nor work IDs are accepted. You should also be prepared for the fact that you're not allowed to bring in any other personal belongings. Leave your smartphone in your automobile. As soon as you finish the test you'll be notified as to whether you passed or failed. In order to pass you will need a minimum of 70% on both the State and National sections of the exam. If you happen to fail, all is not lost. You can retake the test as many times as needed. However, you must pass the test within 24 months of completing the pre-licensing courses.  If you do pass, the last step before becoming a real estate agent in Massachusetts is to pay the state's licensing fee.
The Real Estate License Fee
Massachusetts allows you to pay for and receive your real estate license as soon as you pass the test. Bring a personal check, cashier's check, money order, credit card or debit card with you to the test. The license fee ranges from $103 to $150. The cost is prorated based on your birth month.
Step 5- Getting Hired By A Real Estate Broker/Agency
The next and final step on how to become a real estate agent in Boston is getting hired by a real estate broker/agency. Now that you have your Massachusetts real estate license in hand it's time to start working. The Commonwealth of Massachusetts requires that a real estate agent in Boston work under a real estate broker. Real estate brokers have a high level of experience, have taken additional training, and hold a broker's license. You should always speak to and interview with multiple real estate brokers/agencies that you may be interested in working with.
Tips For Selecting The Best Real Estate Broker To Work With
You're required to work for a brokerage firm for at least three years, which the state looks at like an apprenticeship program. Some brokerage firms will provide intense support, physical space, equipment, access to their databases, and mentorship. Others will give you a company email address and set you free—where you'll be expected to navigate the real estate industry on your own.
At first glance, the first option seems to be the better one, right? For the most part that is certainly true because you truly can't put a price on training. The best brokerages provide the most training classes taught through a wide variety of different teachers so you get exposed to the greatest number of skill sets. That sales support will come at a cost vs the bare bones, no frills, good luck, fly by night real estate companies that offer high commissions but also higher failure rates. As you will have learned in your real estate course, real estate agents work on a commission basis. Real estate changes rapidly. So when in doubt, go with the market leaders.
Depending on the arrangement and level of support, websites and resources the broker provides you, you're looking at anywhere from a 50/50% commission split to an 85/15% commission split. With the former, you obviously get more training. There are companies out there that have extensive training courses in both apartment leasing and sales; and it is incumbent upon you to do your research. Find the company that gives you the best path from apartment leasing into residential and investment sales. 
If you are looking at apartment leasing, seek companies that utilize the most websites and have the largest databases. There are a few companies out there which have developed advanced proprietary apartment syndicating software which gives their agents the edge in marketing. Great domain names matter and web traffic is super important because leads matter. The less time you spend marketing and the more time you spend showing and closing with customers is the best way to win long term. 
Product also matters in apartment leasing. Let's be honest, a great apartment will sell itself. You want to look for companies that have the best apartments and the most google reviews. With sales you will probably want to specialize a lot more and know what type of sales you want to get involved with. There is a huge difference between residential and commercial sales. Look for companies that know how to integrate apartment leasing into investment sales. Details matter.
In our opinion, if you're in this for the long-haul, be patient and find brokers with significant technical knowledge. Find brokers who have previously worked in the high technology space or have even started internet companies. The game of real estate has shifted to the brokers that understand the vital mix of real estate and technology. You also want to find brokers that have been working in this industry for well over a decade. Just because you can get your broker's license in three years doesn't mean you will learn even 30% of what is required to be great. Work for a broker who will teach you the ins and outs of the industry. Yes, you'll earn less initially, but these lessons will make you a better real estate agent in the long-run.
Once you get started as a real estate salesperson, you'll be required to work for at least 25 hours per week for three years in order to qualify to become a real estate broker.
Now Comes the Fun Part: Being a Real Estate Agent

So! You've got your real estate salesperson license, and you're ready to get cooking!  Real estate has a high failure rate for people that seek it as a partly engaged endeavor coupled with another full-time career.  The mechanics of availability work against you.  If you truly want to make this a fulfilling career you will want to be fully engaged and mitigate any other time robbing side hustles.  There is an old saying in real estate  "If you can't show you won't grow" and that has never been more true than now.  No broker will ever recommend you do this as a part-time gig and go juggle other jobs.  Be very careful of the real estate companies that suggest that you will be successful doing this career with minimal hours.  
Check out if the company is trying to charge you for extensive or irrelevant classes and or has high monthly fees.  Perhaps that real estate company wants YOU TO PAY to fly all across the country and go to motivational seminars or other non-core real estate activities.  Ask the company that you are going to work for if they generate revenue off of the training they charge you to take in order to be successful.  If a real estate company that is trying to hire you is suggesting that you pay for their own real estate training; you might want to ask yourself why.
As a real estate agent, you have two career paths.  
Working With A Real Estate Broker
Boston has plenty of brokerage firms you can partner up with, offering everything from mentoring and support, to what essentially amounts to free reign to sink or swim, with commission splits parsed out accordingly. Look for companies with winning track records over time. Details matter.
Here at Boston Pads, we work with a lot of different real estate agents. Our advice? If you're in this for the long haul, pair up with brokers who bring serious technical knowledge and experience to the field. The real estate industry is increasingly shifting in a tech-savvy direction, so if you want the tools and knowledge to make the most of your opportunities, partner with a brokerage that can not only teach you best practices, but also prepares you for the future of our industry. Check their level of teamwork and training. See if the trust factor is there within the office. Look to see how many keys are hanging on their walls because landlords only give keys to people they know like and trust.
Become A Real Estate Broker

Not every real estate salesperson becomes a broker: many love the structure and support of working with a large firm. But for others, the allure of calling their own shots — and not having to split their commission — is too strong to ignore. If you want to become a licensed broker, you'll need to work for three years, for at least 25 hours a week, in order to qualify. Once you've met the requirements, it's time to begin the broker licensure process.
This will be familiar ground, as it's basically the same process as getting your salesperson license: 40 hours worth of training, and one last exam. The cost of the program and exams are essentially the same as before, with one exception: you'll need to present a $5,000 surety bond — signed and completed by an insurance agent — to get your license.
If that's got you panicking, worry not: it only costs about fifty bucks to get one. And you need that insurance bond to act as a broker. But once you've got it in hand, you're ready to go! You'll have to take 12 hours worth of continuing education classes every two years, but your exams are now a thing of the past.
Once you've met the requirements to become a broker, then you need to begin the real estate broker licensure process. It's similar to the process you went through to become a salesperson. You'll need to take a broker course at a state-approved real estate school. The course is another 40-hours' worth of training followed by another exam.
The brokerage exam covers the following topics:
Property rights


Condos and leases

Contracts and deeds

Financing real estate deals

Nuances of brokerage

Appraisals

Fair Housing laws

Massachusetts housing laws

Settlement statements and closings Property management

Commercial real estate transactions
The material in the brokerage course is intended to supplement what you've already learned during your three years' worth of on-the-job training. Importantly, the course is intended to prepare you to become a broker – a position in which you could very well be accountable for the salespeople under you (should you desire to hire salespeople).
As was the case with your last exam, the brokerage test will consist of 120 multiple-choice questions. The test is divided into two sections: National (80 questions) and State (30 questions). You must answer 70% of the questions correctly in each section in order to pass. The brokerage exam costs $106.
Once again, if you pass, you'll be required to pay $150 to obtain your license, but you'll receive your license the same day as you pass the exam.  Upon becoming a broker, you'll need to present a $5,000 surety bond that'd been completed and signed by an insurance agent. 
Congrats! Now you're a licensed real estate broker in the Commonwealth of Massachusetts! You're on the right track. As a broker, you no longer need to split your commissions with anyone else. Even better, you can start collecting a share of the commissions earned by any salespeople who work for you.
Continuing Education

Whether you're a licensed real estate salesperson or licensed real estate broker, the Commonwealth of Massachusetts expects you to engage in continuing education. In order to keep your license valid, you'll need to take continuing ed classes every two years.
Continuing ed classes are pretty easy to complete. You only need to take 12-hours' worth of courses every two years and these can all be completed online. Best yet – there's no test required!
After you complete your continuing ed courses, you'll need to sign and return the state's "Licensee Renewal" form. If you fail to complete these courses, your license will become "inactive" which requires another fee to reactivate.
Still have questions?
We've thrown a lot of information at you today. After all, we promised a comprehensive guide! If you still have questions, we suggest browsing the Commonwealth's "Board of Registration of Real Estate Brokers and Salespersons" website. This is a great resource for anyone who's interested in getting their real estate license. We recommend starting with the FAQ page, which can be found here.
If you've been contemplating becoming a real estate agent, wait no longer! It's such a fun, fast-paced industry – particularly here in the Greater Boston area where real estate IS ON FIRE. If you put in the work, it's a career that can be highly rewarding.

Is Now a Good Time to Become a Real Estate Agent In Boston?
Whether you've always had an interest in Boston real estate, or you've found yourself recently looking for a change, you may be wondering "is now a good time to become a real estate agent in Boston?" The short answer is yes. A real estate career may not be for everyone, but if you want your efforts to match your income then it's a career worth considering seriously.
Additionally, the Boston housing market is strong and resilient. Greater Boston's housing market had a record- setting year in 2021. This applies to both the number of sales on record, as well as prices.  Over the last year, Boston's housing market has remained resilient as real estate prices drop nationwide.  This is because demand for housing in Boston has never been higher, and a shortage of properties for sale makes selling real estate easy. This means that, as a real estate agent in Boston, business will be good as long as you have the right team and tools behind you.
Do you want the opportunity to do something different every day, enjoy scheduling your own hours, and want an unlimited income potential? If you answered yes to this question, the job will be a good fit. It all depends on how hard you're willing to work.
Real Estate Agents in Boston Have a Huge Earning Potential
Being a real estate agent in Boston is an incredibly lucrative career for many people. When you work as a real estate agent in Boston you're not limited by a particular hourly wage or salary. It's important to work with a reputable and successful real estate broker. The right real estate brokerage will want to do everything in their power to help you become a success. They will provide you with all the tools and training you need to close deals the moment you're licensed.
It takes hard work and doesn't always come quickly. However, those willing to put in the effort can easily find success in this business. You need to put your clients' needs first. When you genuinely care about your clients and their needs, success follows. A brand-new agent within our organization grossed $9,000 in her first week! She started in January 2022 and has been closing deals consistently since.
Boston is a Hot Real Estate Market
Property values in Boston and surrounding areas are at an all-time high. There is a great deal of opportunity for new agents. Let's start by looking at single and multi-family residential home sales. There are more buyers than the number of properties available for sale in many areas. Many parties are getting into bidding wars.
Apartment rentals are also strong in the city. In many areas, there are more tenants than there are units available, so demand is extremely high. Both real-time availability rate (RTAR) and real-time vacancy rate (RTVR) for Boston apartments have hit all-time lows within the last year.  That trend does not appear to be changing anytime soon, as our most recent Boston rental data show apartment supply even lower than last year.  
Real Estate Agents in Boston Are Their Own Bosses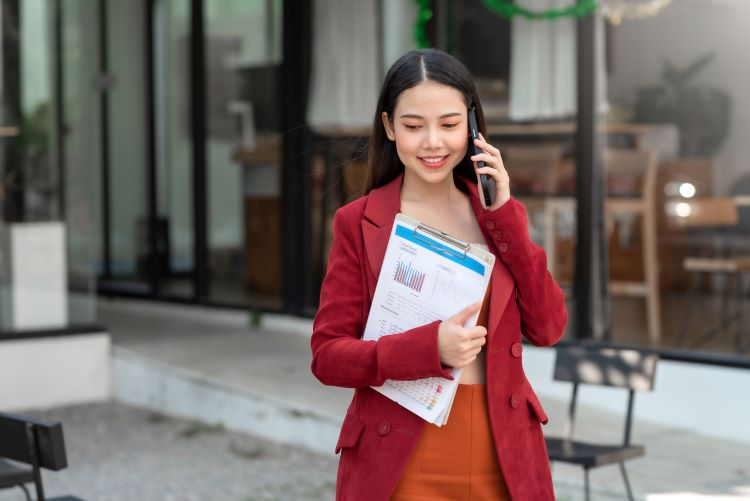 If you're a real estate agent in Boston, then you work for yourself as an independent contractor. That basically means that once you're trained you get to decide when and how you want to work. You must be self-motivated. Dedication, time- management skills, and a clear vision for your professional and financial future are necessary. Working longer hours greatly increases the odds of your success, especially at the start of your career. You also get to decide which aspects are the most important when it comes to your daily activities. The bottom line is that you get to set your own goals.
A big reason why people choose to become a real estate agent in Boston is due to the flexible schedule. Keep in mind that you also need to work around the schedules of your clients. That means you may very well need to conduct showings at night and during weekends. Don't worry- you'll get used to it! Once you build a solid client base and see your business growing, you'll realize it's all worth it.
You Get to Help People in a Direct Way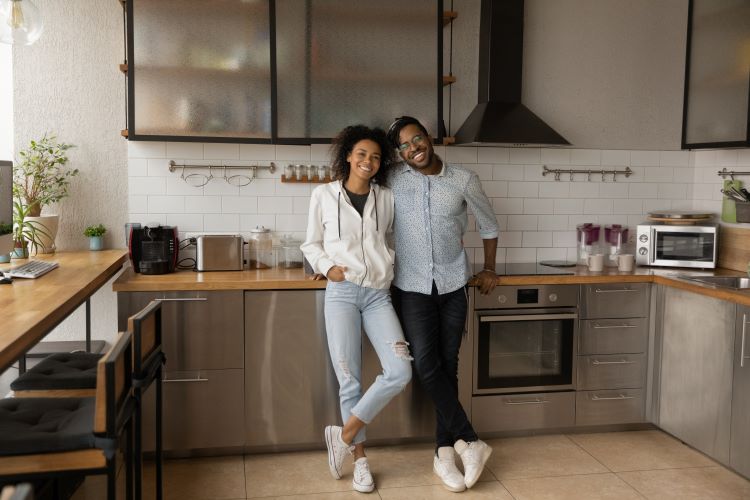 There are many of us out there that find joy in helping others. Wouldn't it be nice if your job were centered on that? Real estate agents in Boston have an opportunity to make people happy daily. You're typically helping your clients through a major milestone in their lives. Knowing that they can depend on you to get the job done with professionalism is incredibly rewarding. For example, one of your clients may be moving out of mom and dad's house for the first time in their life. Helping them find a great apartment can be an amazing experience for you.
The same holds true for working with homebuyers and investors. Buying their first home may very well be the biggest and most significant asset your clients purchase in their entire lives. The same holds true when helping someone start or expand their real estate portfolio. While it may not seem as emotional at face value, real estate investments change lives by helping those buyers work towards financial independence.
It's a Great Time to Be a Real Estate Agent in Boston
There's never been a more exciting time to start a real estate career in Boston. Operating as a real estate agent in Boston requires a lot of hard work and sacrifice. However, it just might be the career change that you've been searching for. For more information, please go to our Boston Real Estate Careers page. It will take you directly to the Boston Pads Real Estate Portal Careers page. Here you will find multiple real estate agencies that are looking to work with new agents and offer their extensive resources and support.