Eat your way through every corner of our very own Flavortown.
Devoted foodies and restaurant newbies love The Feed. Sign-up now for our twice weekly newsletter.
Are you ready to take a trip down to Flavortown? You can always take a trip to Guy Fieri's Tequila Cocina or Guy Fieri's Boston Kitchen & Bar (slated to open November 2021), the Boston restaurants from everyone's favorite frosted-tipped chef and television host. When you want to support some local folks, though, there's no shortage of Fieri-approved eateries already in Boston, serving everything from red-sauce Italian cuisine to lobster rolls to tacos. Here's a list of the Boston-area restaurants featured on Fieri's hit Food Network show Diners, Drive-Ins and Dives.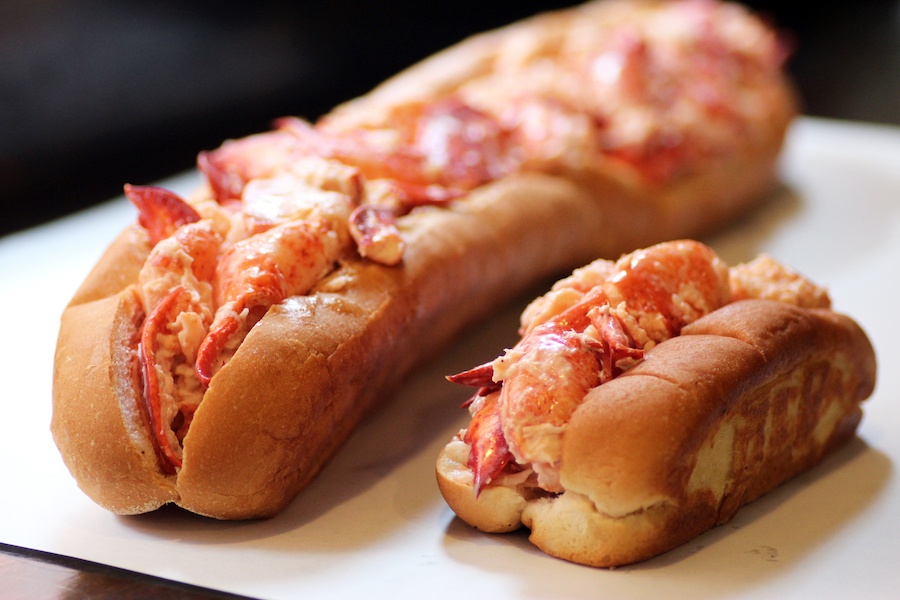 Pauli's
Since 2011, this North End eatery has been serving up signature overstuffed sandwiches and monstrous lobster rolls. See: the U.S.S. Lobstitution, 28 ounces of fresh lobster meat on a grilled long sub with lemon and mayo, so big you can barely wrap your claws around it.
As seen on: Season 31, Episode 1 ("Guy's All-Star Guests")
65 Salem St., Boston, 857-284-7064, paulisnorthend.com.
In A Pickle
Slide into a comfy booth seat in front of the bright green walls of this Waltham breakfast and lunch joint. The menu is chock-full of creative, colorful ideas, from the pumpkin bread French toast to the hot-as-hell El Diablo omelet with sliced jalapenos and lime Buffalo sauce.
As seen on: Season 31, Episode 1 ("Guy's All-Star Guests")
265 Moody St., Waltham, 781-891-1212, in-a-pickle.com.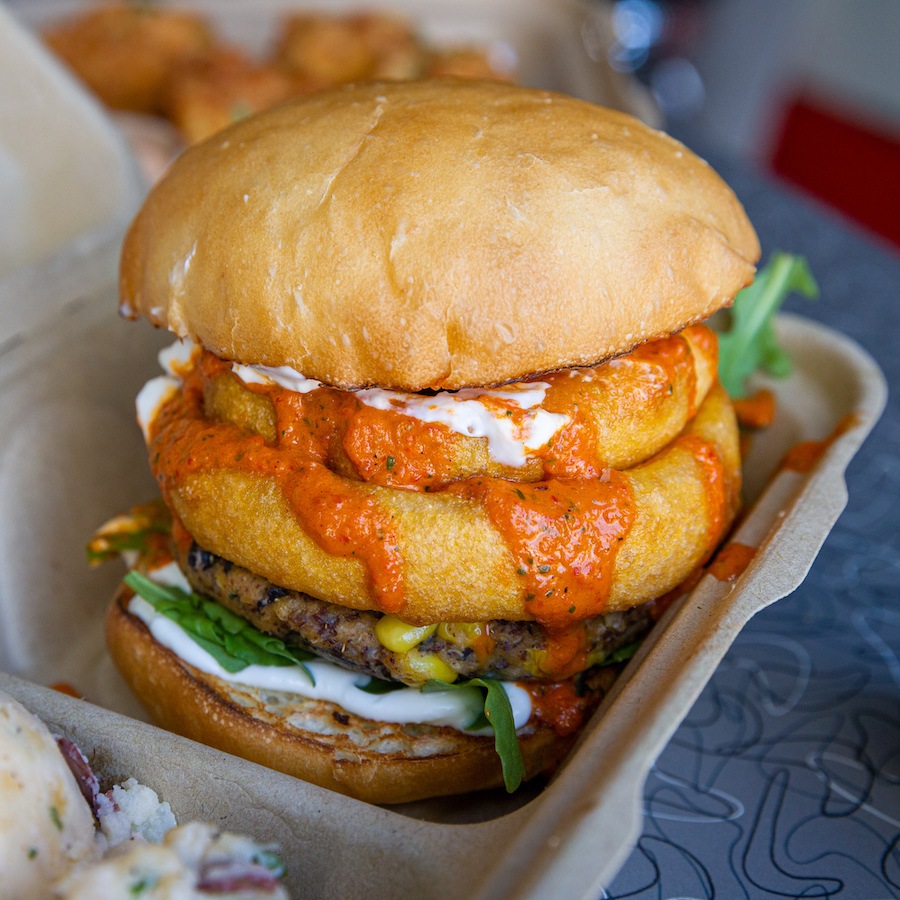 Veggie Galaxy
Imagine a classic American diner serving strictly made-from-scratch vegetarian food, and you've got this Central Square stalwart. Come for the Southwestern breakfast burrito with home fries, or the chocolate chip pancakes with caramelized banana butter. Leave with tasty treats from the on-site bakery—once it reopens, anyway. (Due to the widespread staffing shortage, it's currently on hiatus.)
As seen on: Season 30, Episode 16 ("Unique Eats")
450 Massachusetts Ave., Cambridge, 617-497-1513, veggiegalaxy.com.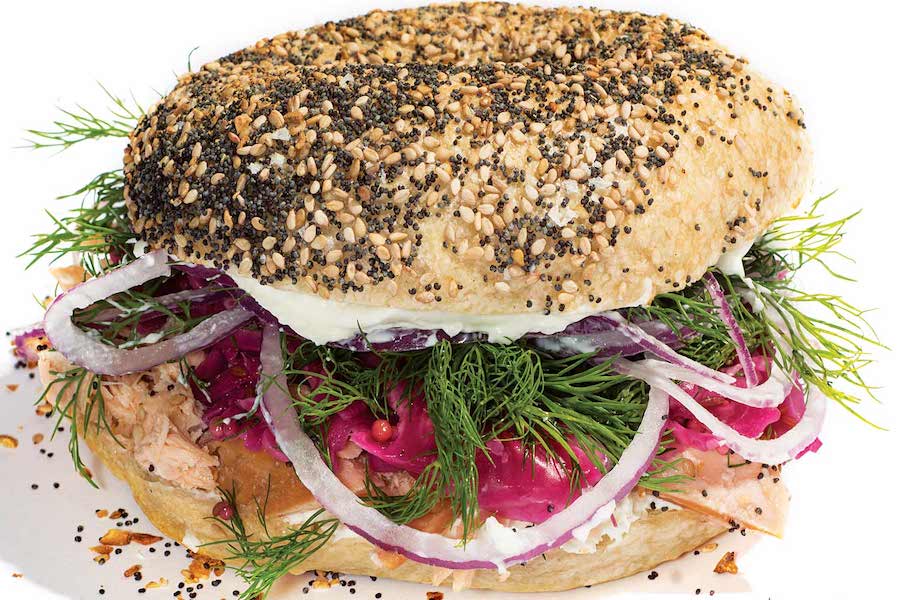 Bagelsaurus
Owner Mary Ting Hyatt makes every one of her bagels by hand, and then the bagels are slow-fermented over 24 hours. The result? Heavenly varieties like sea salt, cinnamon raisin, and poppy, for pairing with spreads (say, honey-rosemary cream cheese) or building sandwiches such as the Hot Smoked, piled with smoked salmon from Boston Smoked Fish Co., pickled red cabbage, capers, and fresh dill.
As seen on: Season 30, Episode 15 ("Bagels, Biscuit and Boar")
1796 Massachusetts Ave., Cambridge, 857-285-6103, bagelsaurus.com.
Dirty Water Dough Company
The secret to Dirty Water's scrumptious pizza dough? Their own home-brewed Dirty Water IPA. Stop by the Back Bay location and order one of the specialty pies featured by Guy Fieri, including the Dirty Taco pizza with chili-style ground beef, shredded mozzarella, and crushed Doritos.
As seen on: Season 30, Episode 14 ("Pizza Plus")
222 Newbury St., Boston, 617-262-0090, dirtywaterdough.com.
Casa Razdora
This old-school Italian restaurant in the Financial District is a place where you can bank on friendly service and fresh handmade pasta. Plates like the lobster ravioli in fra diavolo sauce are utterly divine—or, as Fieri would put it, "Holy moly, Stromboli"-level delicious.
As seen on: Season 21, Episode 4 ("Worldwide Flavorfest"); and Special, Episode 50 ("Incredible Italian")
115 Water St., Boston, 617-338-6700, casarazdora.com.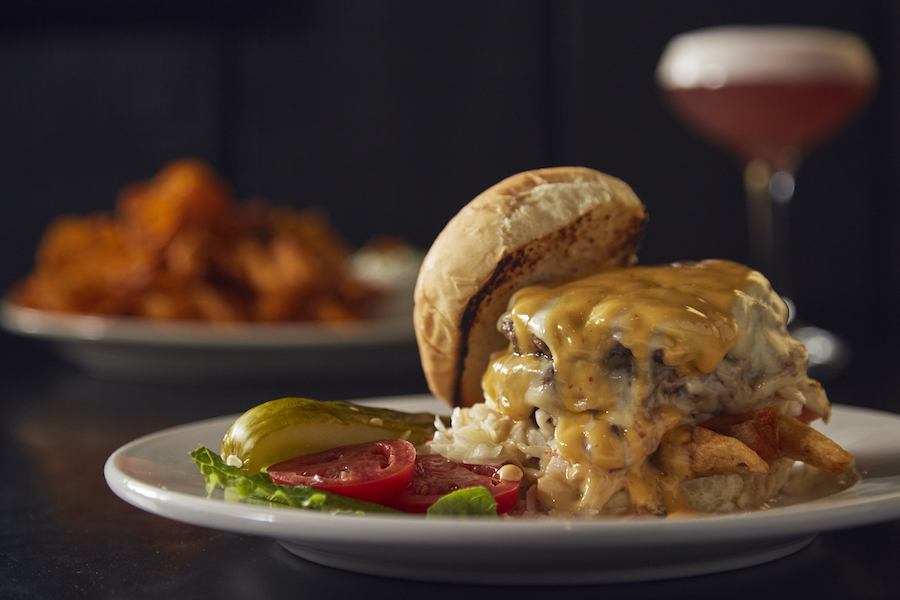 Trina's Starlite Lounge
If you're looking for a retro restaurant vibe with Southern-inspired vittles and playful cocktails, you've come to the right place. Trina's turns out delicious homemade tater tots with rosemary garlic aioli, as well as dynamite plates of crispy fried chicken with buttermilk waffles, all ready for drizzling with hot pepper syrup. Extinguish the flames with a drink like the Rockin' Chair: a combo of black tea-infused bourbon and ginger cognac, it can be served hot or cold.
As seen on: Season 21, Episode 3 ("Cross-Country Classics"); and Season 33, Episode 4 ("Takeout: Ordering All Kinds of Flavor")
3 Beacon St., Somerville, 617-576-0006, trinastarlitelounge.com.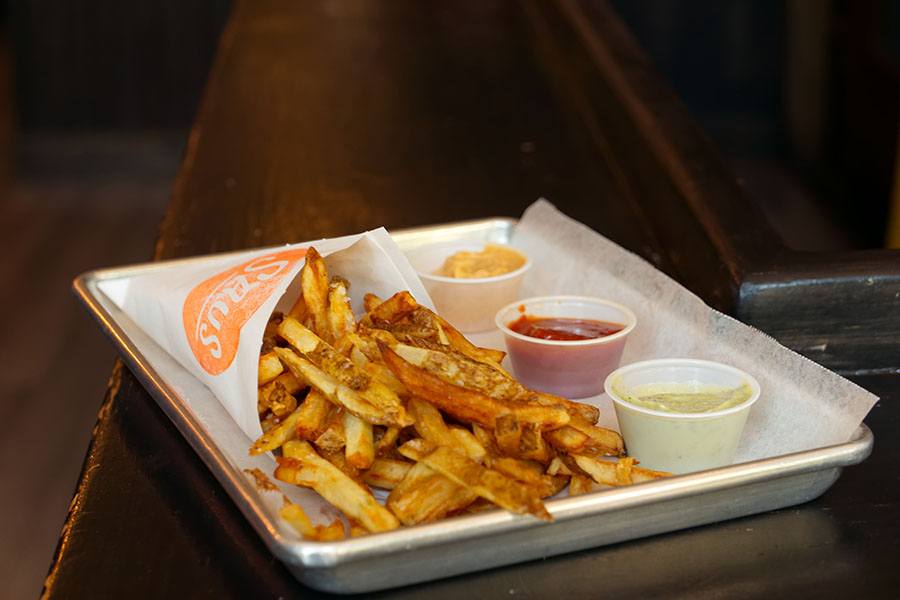 Saus
Saus understands that you can never have too many condiments. That's why this street food-focused spot offers over a dozen different kinds of dipping sauces for its signature poutine, including smoky chipotle, truffle ketchup, and hot beer mustard. (Want something more? Try the Southern Crispy sandwich with scallion slaw, dill pickles, and pimento-cheddar mayo.) Take note: Although there's an exclusively vegetarian location in Somerville, Fieri visited the Faneuil Hall-side original.
As seen on: Season 21, Episode 2 ("Seriously Saucy")
33 Union St., Boston, 617-248-8835, sausboston.com.
Lone Star Taco Bar
Fieri clearly loves Mexican food—his first Boston restaurant was Guy Fieri's Tequila Cocina, after all. So it says something that he gave his stamp of approval to this hangout (which also has a location in Cambridge) and its menu of chicken ranchero tostadas, grilled street corn, margaritas, and more.
As seen on: Season 21, Episode 1 ("Roadtrippin' in Beantown")
479 Cambridge St., Allston, 617-782-8226, deepellum-allston.com/lonestar.
Cafe Polonia
The handcrafted furniture lends to a cozy, homey ambiance at Southie's memorable destination for traditional Polish and Eastern European cuisine. You won't soon forget the meat pierogis served with caramelized onions and bacon bites or the pork loin in mushroom sauce.
As seen on: Season 21, Episode 1 ("Roadtrippin' in Beantown")
611 Dorchester Ave., South Boston, 617-269-0110, cafepolonia.com
Blunch
This morning-through-midday South End kitchen's pressed sandwiches are the real deal. It's impossible to go wrong with whatever you pluck off the menu, whether that's the Bird sandwich with chicken breast, mozzarella, oven roasted tomatoes and artichoke aioli, or the vegetarian Provencal (the "Hippie Picnic," as Fieri called it) with Vermont goat cheese, tomatoes, kalamata olive puree, and basil cashew pesto.
As seen on: Season 20, Episode 2 ("Stuffed and Twisted")
59 E Springfield St., Boston, 617-247-8100, eatblunch.com.
Yankee Lobster Company
You couldn't miss the Yankee Lobster Company's bright, lobster-red awning if you tried. Not that you'd ever want to. The longstanding Seaport operation serves up some of the best seafood-shack favorites around, including creamy lobster mac 'n' cheese, crispy crab cakes, and plenty more freshly caught (and frequently, fried) fish.
As seen on: Season 15, Episode 13 ("Turn On Traditional"); and Special, Episode 56 ("All Stacked Up")
300 Northern Ave., Boston, 617-345-9799, yankeelobstercompany.com. 
Angela's Café
Angela's is a pair of laidback restaurants in Eastie specializing in plates from the Puebla region of Mexico. Fieri flew over to the Eagle Hill spot for the show—but no matter which one you visit, you'll find breakfast, lunch, and dinner menus full of favorites like the chilaquiles, fried corn tortilla chips sauteed with a sauce of your choice and topped with shredded chicken, queso fresco, and avocado, and served with eggs and refried beans.
As seen on: Season 15, Episode 11 ("Food Done Right"); Special, Episode 8 ("Triple D Nation: East Coast Eatin'")
131 Lexington St., East Boston, 617-567-4972, angelascafeboston.com.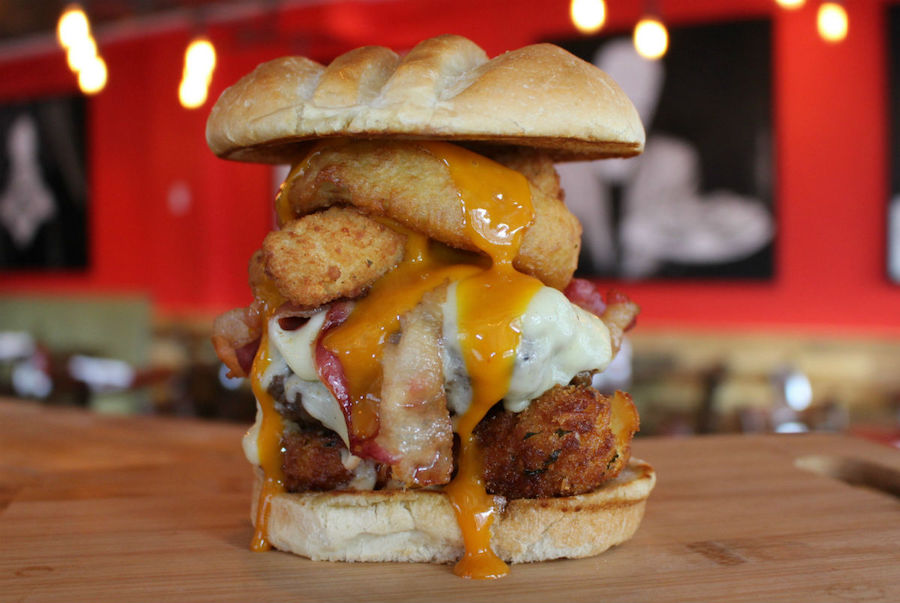 Boston Burger Company
All the sizzling beef patties are taken to the next level at this local burger chain (Fieri visited the Somerville original). Exhibit A: burgers like the Mac Attack, smothered in four-cheese mac 'n' cheese and bacon, as well as the Killer Bee, stacked with beer-battered onion rings, bacon, and honey BBQ sauce. They're all so delicious they could "serve it on a trashcan lid," and Fieri would still bite.
As seen on: Season 15, Episode 8 ("Burgers, Noodles and Quahogs"); Season 33, Episode 1 ("Takeout: Worldwide Delivery"); Special, Episode 5 ("Triple D Nation: From Near to Far"); Special, Episode 10 ("Top 10 Burgers"); and Special, Episode 44( "Knockout Burger Joints")
37 Davis Square, Somerville, 617-440-7361, bostonburgercompany.com.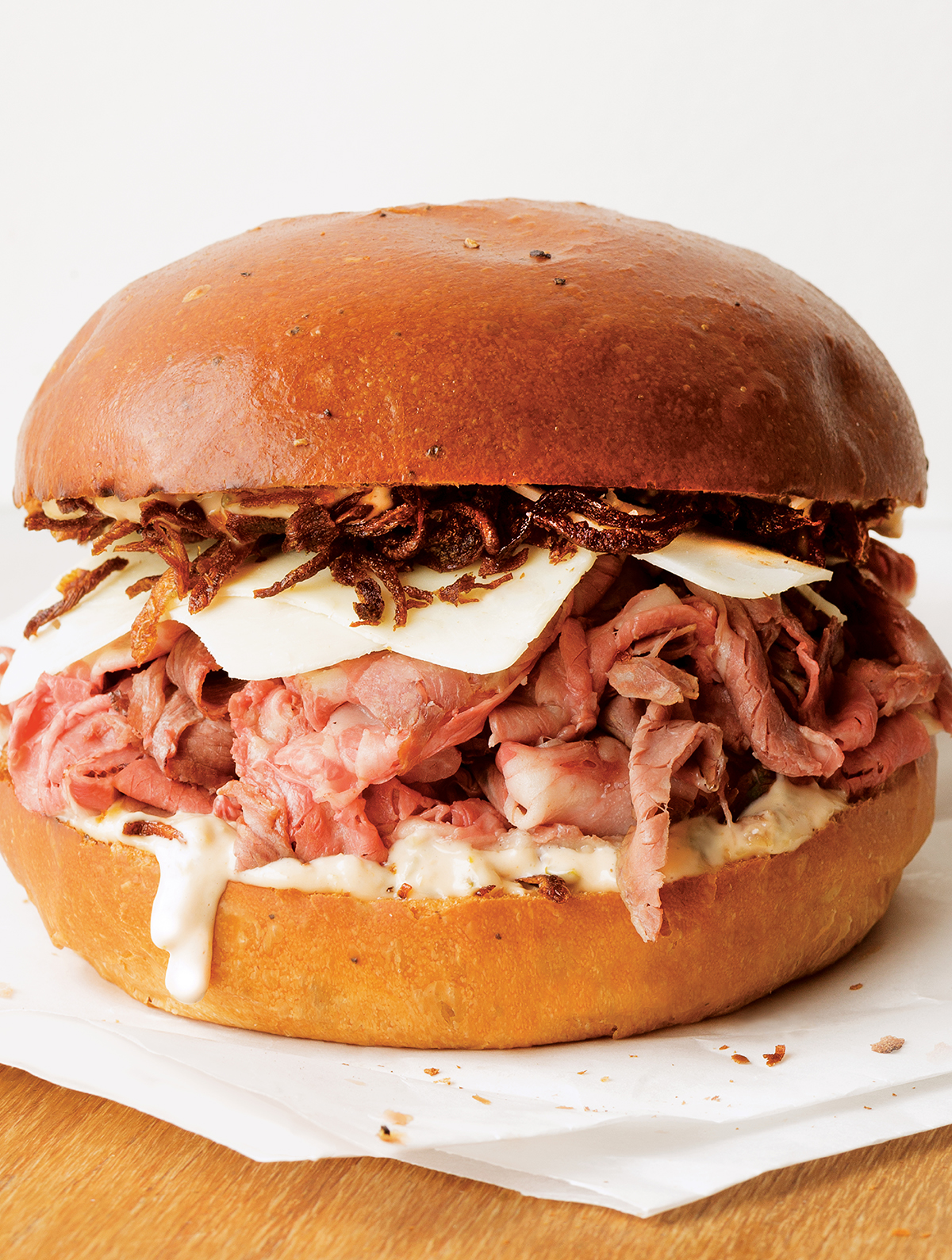 Cutty's
This Brookline-based sandwich shop was opened by spouses Rachel and Charles Kelsey in 2010. And guess what? Their superlative sandwich creations—like the justifiably famous Beef 1000, slow-roasted beef, crispy shallots, and thousand island dressing on a brioche roll—will keep customers returning for years to come.
As seen on: Season 15, Episode 5 ("Massachusetts Madness"); and Special, Episode 64 ("Northeast Feast")
284 Washington St., Brookline, 617-505-1844, cuttyfoods.com.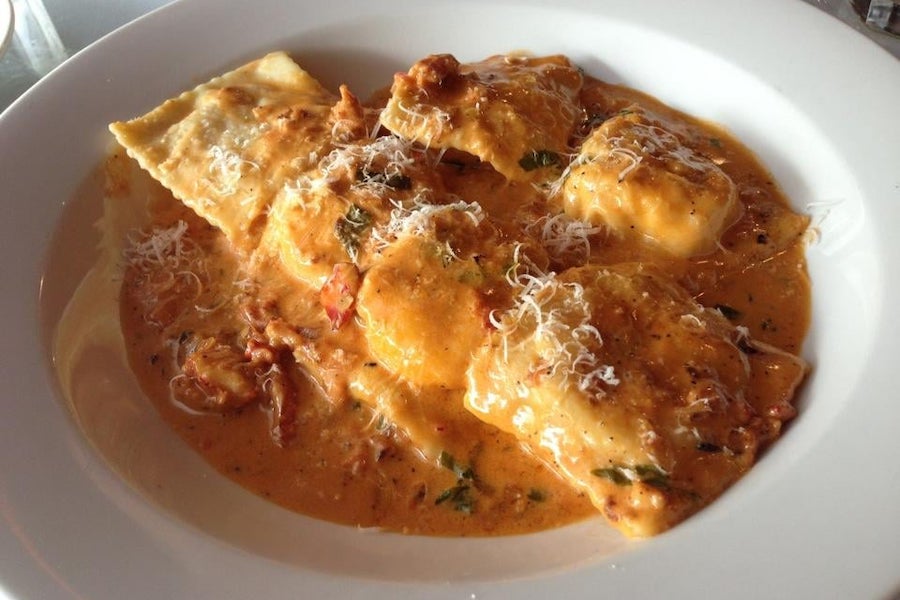 Rino's Place
Even after attempting (key word) to polish off one of the enormous Italian meals at Rino's, you'll be set with leftovers for days to come. At least all that extra lobster ravioli will come in handy when you settle in for a binge-watch of Diners, Drive-Ins and Dives, which has featured Rino's on three separate episodes.
As seen on: Season 10, Episode 7 ("Made to Order"); Season 32, Episode 5 ("Takeout: Dinner and Dessert That Delivers"); and Special, Episode 15 ("Amazing Italian")
258 Saratoga St., East Boston, 617-567-7412, rinosplace.com.
Greek Corner Restaurant
"Lights-out delicious" is one of Fieri's more famous catchphrases, and there's no doubt about it—we're always left feeling food-coma-bound after a feast at this dazzling neighborhood Greek joint. Don't snooze on the roasted lamb gyro, its hot pita packed with vegetables and yogurt sauce, or the pastitso: baked macaroni with ground beef, tomato sauce, myriad spices, and creamy bechamel sauce.
As seen on: Season 10, Episode 3 ("Timeless"); and Special, Episode 3 ("Triple D Nation: Layered, Stuffed and Stacked")
2366 Massachusetts Ave., Cambridge, 617-661-5655, greekcorner.us.
Mr. Bartley's Gourmet Burgers
The king of Flavortown is hardly the only famous person to have visited this historic Cambridge restaurant: Bob Dylan, Jacqueline Onassis, and Al Pacino are all among the American royalty to have dined inside its poster-covered walls. He's the only one, though, who can brag that he's designed a burger for the menu—the Triple "D" burger, that is, a double patty with American cheese, BBQ sauce, grilled onions, and bacon.
As seen on: Season 8, Episode 1 ("Burgers, Steaks and Chops"); and Special, Episode 10 ("Top 10 Burgers")
1246 Massachusetts Ave., Cambridge, 617-354-6559, mrbartley.com.
Sam LaGrassa's
Since 1968, LaGrassa's—a lunchtime favorite for downtown office workers, in particular—has been cooking up fresh pots of New England Clam Chowder and specialty sandwiches like Fieri's favorite: the Chipotle Pastrami sandwich topped with Swiss cheese, coleslaw, and chipotle honey mustard.
As seen on: Season 7, Episode 9 ("Blast From the Past")
44 Province St., Boston, 617-357-6861, samlagrassas.com.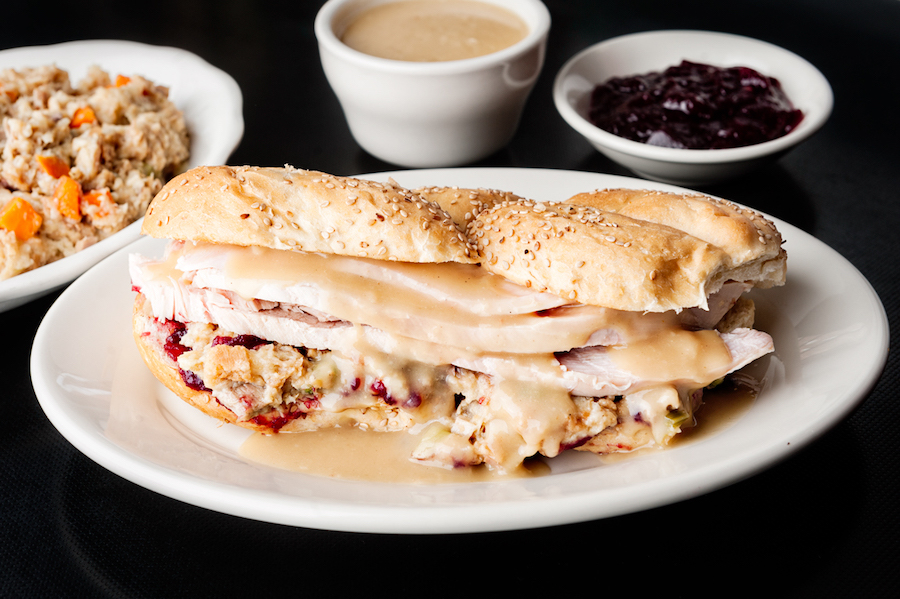 Mike's City Diner
Mike's has appeared on Diners, Drive-Ins and Dives four times, and it's easy to understand why once you've tasted feast-worthy classics like the Turkey Dinner, rounded out with plenty of sides, or the famous Pilgrim sandwich (piled high with turkey, stuffing, and cranberry sauce).
As seen on: Season 2, Episode 7 ("Talkin' Turkey"); Season 32, Episode 4 ("Takeout: Tastier at Home"); Special, Episode 39 ("Ultimate Turkey Fest"); and Special, Episode 98 ("Triple D Nation: Trottin' Out the Turkey")
1714 Washington St., Boston, 617-267-9393, mikescitydiner.com.
Kelly's Diner
The Boston area has no shortage of historical attractions, but here's one modern landmark you won't find on the Freedom Tour: Kelly's Diner, the first diner to ever be featured by Fieri on Diners, Drive-Ins and Dives. Yes, really. The 1950s dining car, moved all the way to Somerville from Utah, lured the chef with its outstanding lobster rolls, apple pancakes sprinkled with cinnamon, and three-decker club sandwiches.
As seen on: Season 1, Episode 11 ("Diners A-Plenty"); and Special, Episode 1 ("Triple D Nation: A Little Lighter")
674 Broadway, Somerville, 617-623-8102, kellysdiner.net.