From hot Nashville chicken to decorated donuts, these restaurants have it all – if you know where (and when) to find them.
Dedicated gourmets and restaurant newbies love The Feed. Register now for our twice-weekly newsletter.
Pop-up restaurants are the welcome wildcards of modern cuisine for obvious reasons: With their seductive temporality, often ambitious young chefs at the top and their mostly cross-border or unusual cuisine, they give the city spontaneity, exclusivity and excitement in a way that is more permanent Situations inherently cannot. Additionally, after a year of cooking at home more often, we really long for that electric sense of discovery and city life that pop-ups epitomize. And so, as the post-pandemic days are begging to be taken, here are eight exciting pop-up restaurants in the Boston area to try this summer.
Comfort kitchen
Later this year, Comfort Kitchen will offer a full-service café and restaurant in Upham's Corner, serving home-style cooking inspired by the African diaspora. Would you like to get a taste of what is to come? You can now head to the Jamaica Plains space-themed Little Dipper diner, where the Comfort Kitchen team stages a pop-up preview every Thursday through Sunday throughout the summer. The concise menu is inspired by the culinary traditions and travels of the North African Moors and leads to plates like a charred spiced chicken with pickled lemon jam and Za'atar brown butter trout. If these vibrant flavors are a clue to the future, we'll wait with bated breath to see what Comfort Kitchen is cooking in its own place.
Comfortkitchenboston.com; Little Dipper is located at 669A Center St., Jamaica Plain, 617-524-9217.
East Boston oysters
As an elusive and unpredictable operation, East Boston Oysters has achieved great success, despite the fact that it embodies many of the things our buttoned-up city avoids: particularly impulsiveness and whims. Nonetheless, founder Alexis Cervasio hosts playful, slightly disrespectful, and effortlessly elegant events that, in one word, educate eaters about New England's more mysterious seafood specialties, oysters and caviar. There's a twist, however: tickets for every soiree – which often includes cameos from other local indie food companies – are advertised in flash sale style via their email list, with locations and detailed itineraries up to 24 hours be kept under lock and key before the festivities begin. The pandemic thwarted the process, but they're back in action this summer, even though Cervasio is preparing to open a brick and mortar store at the same time. Subscribe to EBO's email list to keep up to date and, more importantly, do not hesitate when an event is announced: the latest "excursion" to Duxbury sold out in a matter of hours.
Eastbostonoysters.com.
Hot Chix
The distinct heat of Nashville Hot Chicken is one of the city's most iconic culinary exports, and Hot Chix, which has been showing up at the Pagu in Kendall Square since 2019, is possibly the best-known supplier of this stuff in the Boston area. Though it's only available to take away a few hours a week on Tuesdays, founders Alex Nystedt, Will Yoo, and Alex Kim have made a name for themselves for Hot Chix as a premier fried chicken destination – so much so that a traditional restaurant of their own is for one Opening planned for July in Inman Square. Even so, they'll continue to run the Pagu pop-up even after the new space opens, meaning their fiery chicken sandwiches and top-notch side dishes (like a cooling banana pudding) will satisfy the avid heat seekers of this neighborhood as they have more permanent roots elsewhere plants.
Hotchixboston.com; Pagu is located at 310 Massachusetts Ave., Cambridge, 617-945-9290.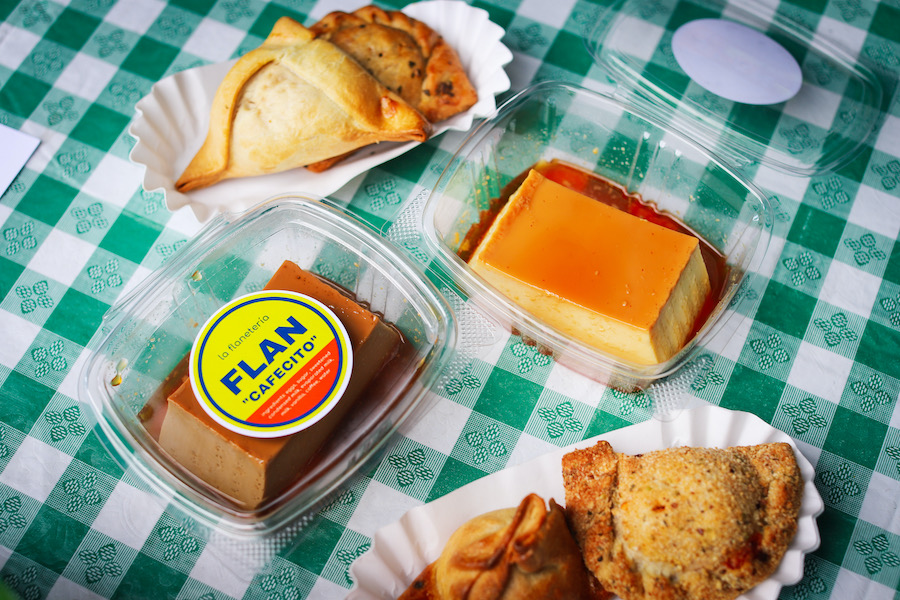 The Flanetería
According to Vanessa Yip, Wednesdays should no longer be known as humpback days – they are now, according to her decree, #OnlyFlans Wednesday. On this day she picks up the classic dessert – from standards like chocolate cake to inventions like a coffee-sprinkled cafecito or a aptly named "tiramiflan" – appears at Buenas in the Bow Market to take away, replete with instructions on how to demold the delicious puddings Home and their gorgeous caramel pools. Pre-orders must be placed by 9:00 PM on Sunday evenings to guarantee pick-up, but some customers walking around may still be able to grab a piece of cake with a bit of luck.
Instagram.com/laflaneteria; Buenas is located at 1 Bow Market Way, Somerville.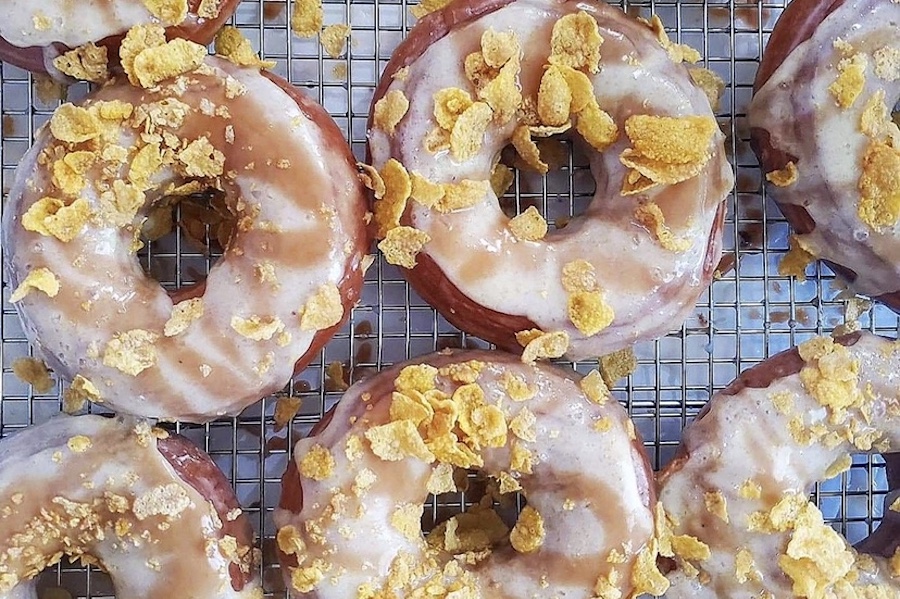 Lion heart candy
The donut is a blank canvas ripe for invention, but few go in as many exciting directions as Kate Holowchik, the one-woman force behind this pastry and baked goods pop-up. Holowchik's creations are available at the Reign Drink Lab in Dorchester on most weekends of summer and range from hearty concoctions like a caprese donut with mozzarella mousse and marinated tomatoes to a raspberry lychee lime rickey donut and even imaginative variations other breakfast pastries, such as an Ube cinnamon roll. Best of all, the flavors vary according to Holowchik's whims – this means no weekend has the same variety and repeat visits are sure to be rewarded.
Instagram.com/lionheartconfections; Reign Drink Lab is located at 1370 Dorchester Ave., Boston, 617-863-7353.
Mimi's Chūka Diner
B&G Oysters alumni Ted Woo and Jon Awerman have teamed up to serve their take on chūka ryori, or dishes of Chinese origin, in a Japanese style to touch the intriguing (and often delicious) way in which different cultures can come together through food. Keep an eye on Instagram for the couple's appearances around the Boston area: in the past few weeks, Mimi's Chūka Diner has hit the CREATE Gallery in Somerville's Bow Market and Idle Hour restaurant in Quincy, among others. There are also themed bento boxes prepared for pick-up on Fridays and Saturdays in Malden and Medford – a recent offering included, for example, no-brew ramen noodles with braised chicken, an Ajitama devil's egg and gyoza. Don't feel like hiking out? Mimi's Chūka also delivers dumplings from scratch every Sunday across Boston.
Mimischukadiner.com; instagram.com/mimischukadiner.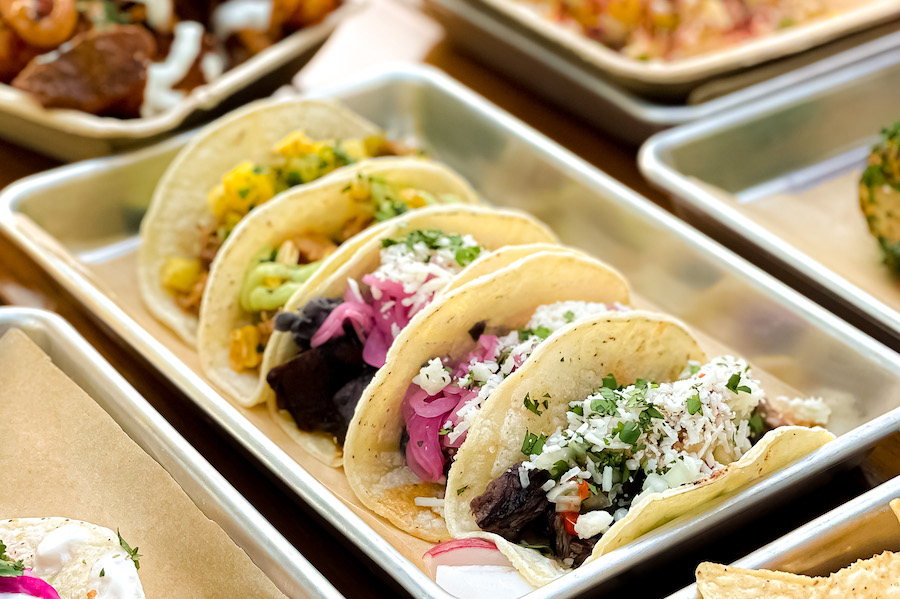 to Maria
The latest and greatest addition to the Seaport's culinary experiences is Para Maria, a culinary homage to Abuela from head chef Tatiana Rosana. Rosana's Latin cuisine concept has moved into the Envoy Hotel's Outlook kitchen, which she normally runs, by September, bringing a menu inspired by the Miamier-born's upbringing in a Cuban family. Expect some delicious tacos – think chipotle portobello mushrooms and mojo pork carnitas – as well as ceviche and three types of elotes. And with many of the family tradition-based dishes served as small plates and meant to be shared, Para Maria is a seemingly bespoke place to host your own myriad get-togethers with loved ones this summer.
Paramaria.com; Outlook Kitchen is located at 70 Sleeper St., Boston, 617-338-3030.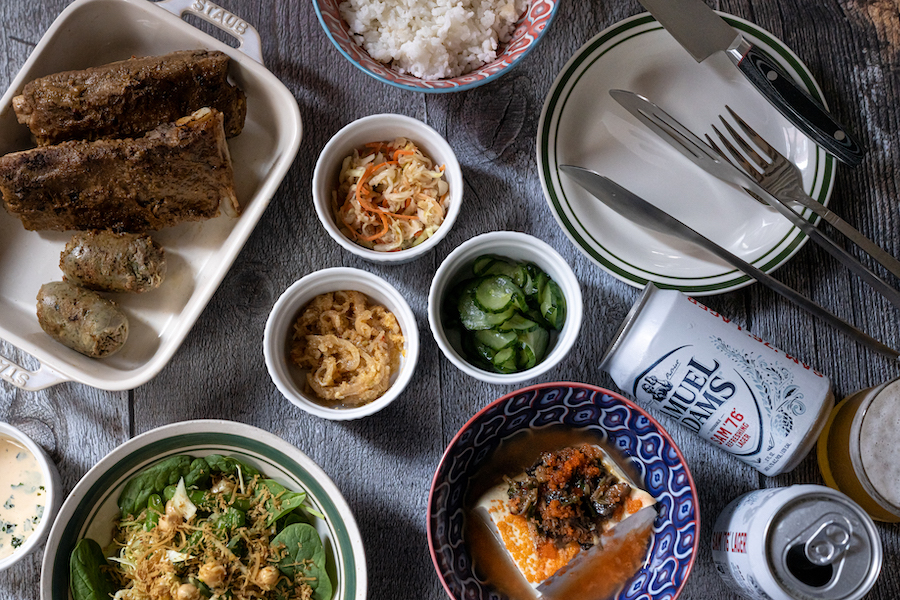 once
Although the pandemic last year resulted in Chef Derrick Teh being on leave from his post at Momi Nonmi in Cambridge, it also gave him the freedom to spend time and energy building his own project in Sekali. The foodie favorite serves modern Malaysian dishes that have produced tempting results from his upbringing in Borneo and his culinary career in the northeast: curry laksa with udon noodles and pork ribs, with homemade chili chips and kaya or coconut jam. Menus and pickup locations go live on Instagram every Wednesday, but act fast – they're known to sell out in minutes.
Sekali.boston; instagram.com/sekaliboston.