As economic conditions have deteriorated throughout 2022, many are wondering if Boston real estate prices have started to trend downward. To fight inflation, the Fed has hiked interest rates four times so far in 2022. Based on their July meeting, more rate hikes are likely ahead. If you analyze this year's MLS data, you can see that this has already started to erode demand from homebuyers, but are home prices falling in Boston too?
The answer is no (not yet). Property prices in the Boston real estate market have not decreased so far in 2022. MLS data shows homebuyer demand has eased in 2022, but home prices in the city have yet to fall. Currently, the 1 year median price for single family homes for sale in Boston is $816,353. This median price is up +4.46% since January and +8.13% since September 2021. Similarly, the 1-year median condo selling price in Boston is $730,232, up +4.32% since January and +7.39% since last September. While house prices have risen in 2022, they have risen at narrower margins than the year before, indicating a cooling real estate market.
| | | | | | |
| --- | --- | --- | --- | --- | --- |
| Boston | July 2022 | January 2022 | % change | Sep 2021 | % change |
| 1 year median sales price (single-family house) | $816,353 | $781,474 | 4.46% | $755,000 | +8.13% |
| 1 Year Median Selling Price (Condominium) | $730,242 | $699,989 | 4.32% | $680,000 | +7.39% |
Will house prices fall in Boston in 2022?
Based on current MLS data, Boston's average 1-year price change percentage doesn't look like it's going to hit the red before year-end. While we forecast that prices will begin to trend down in the final quarter of 2022, not enough to fall below the 2021 Boston median selling price for single-family homes ($781,474) or condos ($699,989).
As of August 1, Boston has recorded 7,260 residential real estate transactions over the past year. This number is down -6.36% compared to January 1st. Likewise, the total inventory of properties in Boston has more than doubled over this time span, with 1,557 properties for sale on August 1, 2022 compared to just 716 on January 1. Fewer home sales and a sharp increase in inventory for sale both indicate that demand for homes is falling. Because of this, median home price growth in Boston is now slowing and could fall by 5% or more next year depending on the depth of the recession.
| | | | | | |
| --- | --- | --- | --- | --- | --- |
| Boston | July 2022 | January 2022 | % change | Sep 2021 | % change |
| Current inventory | 1,557 | 716 | 117.46% | 1.113 | +44.20% |
| 1 year real estate sale | 7,260 | 7,753 | -6.36% | 7,397 | -1.85% |
Based on this data and current economic conditions, we forecast that Boston real estate prices will trend downward over the next few months. When interest rates rise, more homebuyers are squeezed out of the housing market, which hurts demand. As inflation rages, consumers' purchasing power will fall, which will also affect demand for housing. We're already seeing this in the Boston real estate market. We must also consider the prospect of corporate layoffs, which are typical in recession times, and the destructive impact they are having on demand.
Is Boston Real Estate Overpriced?
Real estate in Boston is not overpriced because Boston's median household income has risen alongside median home prices. According to data from the US Census Bureau, the median household income in the greater Boston area increased by +31.38% from 2011 to 2020.
| | | | |
| --- | --- | --- | --- |
| city | 2020 | 2011 | % change |
| Boston-Cambridge-Newton, MA | $94,430 | $71,878 | +31.38% |
This is thanks in large part to Boston's ability to attract start-up businesses, which has created thousands of new high-paying jobs in the metro area. Boston has emerged as one of the biotech capitals of the world in recent years as VC funding has increasingly flowed to Boston. Over the past decade, Boston has grown to become the third-largest U.S. market for all venture capital funding, behind New York and San Francisco, according to Pitchbooks Venture Monitor.
That's one of the main reasons Boston real estate prices are approaching levels in New York and San Francisco. This trend is unlikely to change as Boston has arguably the largest recruiting pools in the world (think Harvard, MIT, Northeastern, etc.). For these reasons, we don't think Boston real estate is overpriced.
Is Massachusetts in a real estate bubble?
At this point, Massachusetts doesn't appear to be in a real estate bubble. A housing bubble is defined as a period of unsustainable house price growth, usually followed by a sustained depreciation. To describe Massachusetts home price growth as unsustainable would be inaccurate.
Between the influx of VC funding, the growing metropolitan population, and income growth, there are still plenty of reasons to be bullish about the Boston-area housing market. While it's true that Western Mass is losing residents, the average retail price in Springfield, MA is still a reasonable $270,000. The Boston Metro will continue to create medical and biotechnology jobs, attracting more affluent, high-income workers. Boston's long-term housing prospects appear optimistic beyond the recession.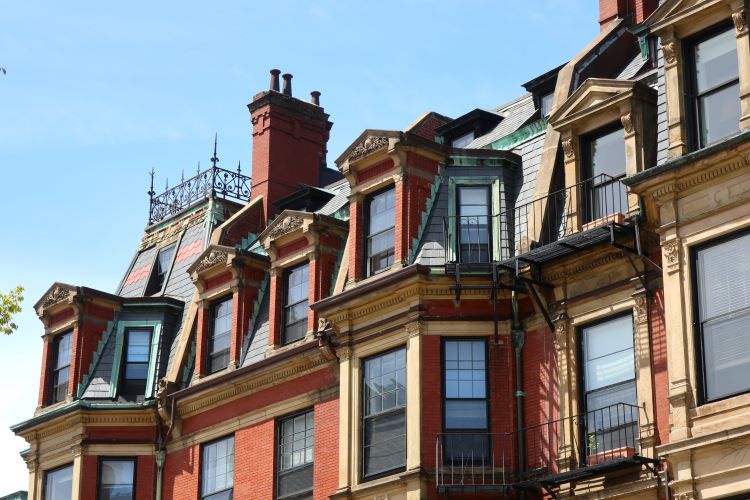 Conclusion
In summary, our long-term outlook for the Boston real estate market is positive. In the short term, however, price corrections appear to be imminent. During the 2008 real estate bubble, national house prices fell by -8.5% and took about three and a half years to recover. We do not expect Boston house prices to fall more than -8.5% in 2023. A more likely number will be in the 5% range. Unless mass layoffs by businesses become the norm, house prices are expected to recover faster than in 2008 as new jobs are created in the metro area. We will continue to report on these trends in the Boston housing market as they develop. For all things Boston real estate, check out Boston Pads!

Demetrius Salpoglou
Release Date: September 6, 2022
Demetrios Salpoglou is CEO of bostonpads.com, an information and technology based services company that provides real estate companies with state-of-the-art resources. Demetrios has developed over 90 real estate related websites and owns hundreds of domain names. Demetrios also owns and operates six leading real estate offices with over 140 agents.
Demetrios has assembled the largest home rental team in the Boston area and is responsible for sourcing more rental homes than anyone else in New England – with over 100,000 people finding housing through his services. Demetrios is an enthusiastic real estate developer, peak performance coach, educator, guest lecturer and motivational speaker.