Restaurants

Companies give back to the LGBTQ community with proceeds from limited edition beers, desserts and more.
Proud of Night Shift Brewing. Eyebrows on the night shift
With Boston Pride making the decision to reschedule its 2021 celebrations online, there won't be a physical parade before heading out to have a drink or something to eat with friends. But that doesn't mean restaurants and breweries have their annual celebrations.
To celebrate Pride Month, a handful of local restaurants, taprooms, and wine shops are offering beverage specials, limited beer releases, desserts, and more. And they don't just put a rainbow flag in a sandwich and call it a day. Many donate proceeds from specials and events to causes such as BAGLY, the Boston Alliance of Gay, Lesbian, Bisexual and Transgender Youth; the "It gets better" project; and GLAAD, the Gay & Lesbian Alliance Against Defamation.
Below is an ongoing list of local food companies that are giving back to the LGBTQ community during Pride Month. Check back often as we are constantly adding to this list.
The Cambridge restaurant kicks off its monthly alfresco drag brunch series on June 6, featuring Boston-based artists Alana Thicc, Stef Anya, and Christina Faguilera. The tickets include a Pride cocktail – the (Bae) sil Fen with Absolut Rainbow, Basil, St-Germain and Cava – and part of the ticket proceeds will benefit BAGLY.
Would you like to expand your wine collection? This restaurant, music venue and wine bar will sell Rainbow Rosé and Pride t-shirts at its West End location, with 10 percent of all proceeds going to GLAAD.
On June 10th, Clink is hosting a special Pride dinner at The Liberty Hotel with a range of rosé (and frosé!) Soaked raspberries. A portion of the ticket sales go to The Theater Offensive, a performing arts organization that highlights the work of, for, and about queer and transgender people.
Dorchester Brewing will kick off Pride Month on June 6th with a drag brunch hosted by Zayn X and MT Hart. The tickets include a 4-course brunch with food from M&M BBQ and beer from the brewery, and part of the ticket sales will be donated to BAGLY. The taproom also recently unveiled its brand new Pride hats.
Flour has a couple of Pride specials on its June card, including Rainbow Sable Cookie Stack and a Rainbow Rice Krispie Treat Baking Set, both of which can be shipped nationwide (but you can also go to your nearest Flour location for to pick up the biscuits). . Part of the proceeds will go to BAGLY.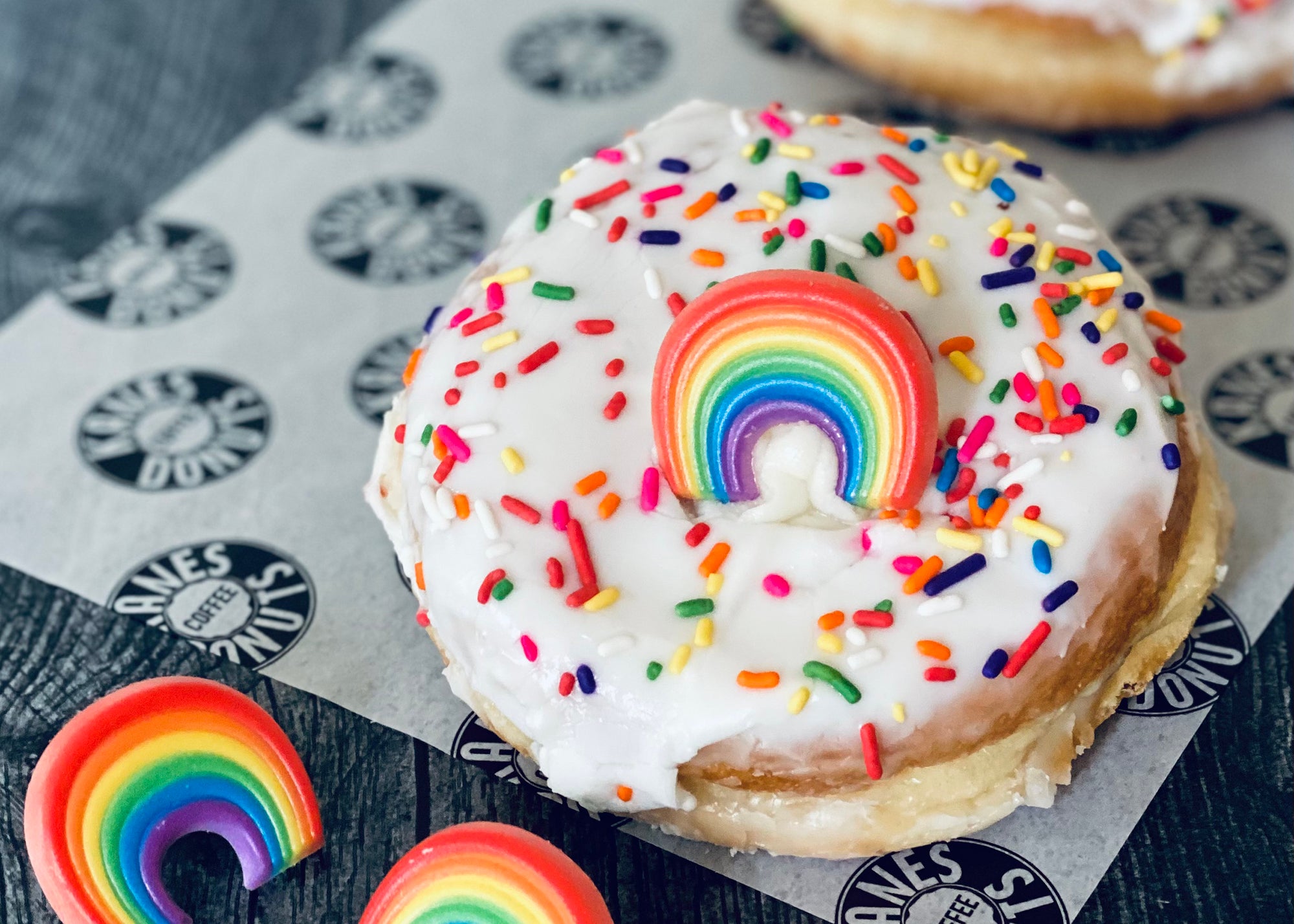 Love is Love Donut at Kane's Donuts. – Kane's donuts
From June 7th to 13th, donut fans with a sweet tooth can pick up a love-is-love donut at one of Kane's three locations. The colorful baked goods have a spread of vanilla frosting and homemade whoopie pie filling and come with an adjustable rainbow ring. A portion of the proceeds will go to Boston Pride to celebrate the organization's 50th anniversary.
There's a lot going on in the Lamplighter for Pride Month: Queer Book Club on June 22nd, a drag brunch on June 26th and Queer Trivia on June 29th. The Cambridge brewery also just released Act Up, their Pride Month pale ale. For every four-pack and keg of Act Up sold, the brewery donates $ 1 to the Massachusetts Transgender Political Coalition, an organization that promotes the welfare, safety, and equality of transgender, non-binary, and gender-wide community members in Massachusetts fights.
Proud roast from night shift brewing. – Night Shift Brew Night
"All styles are welcome" is the motto of this local brewery, which brought back their Proud beer – a double-hopped New England pale ale – for the month of June, available at all Night Shift breweries and select retailers in Massachusetts. The brewery also offers a Proud roasted coffee and a Pride T-shirt; A portion of the proceeds from beer, coffee and shirt goes to the It Gets Better Project. On June 1, Night Shift launched the Night Shift Virtual Pride Market, an online marketplace that highlights LGBTQ businesses like Rhodium Spirits and 7ate9 Bakery.
Chef Tatiana Rosana's Seaport pop-up Para Maria serves Pride Krispies in June and features the decadent dessert made from fruity pebbles and white Ghirardelli chocolate. A portion of the sales of the Pride Krispies will go to The Trevor Project, which provides suicide prevention and crisis intervention services to LGBTQ youth.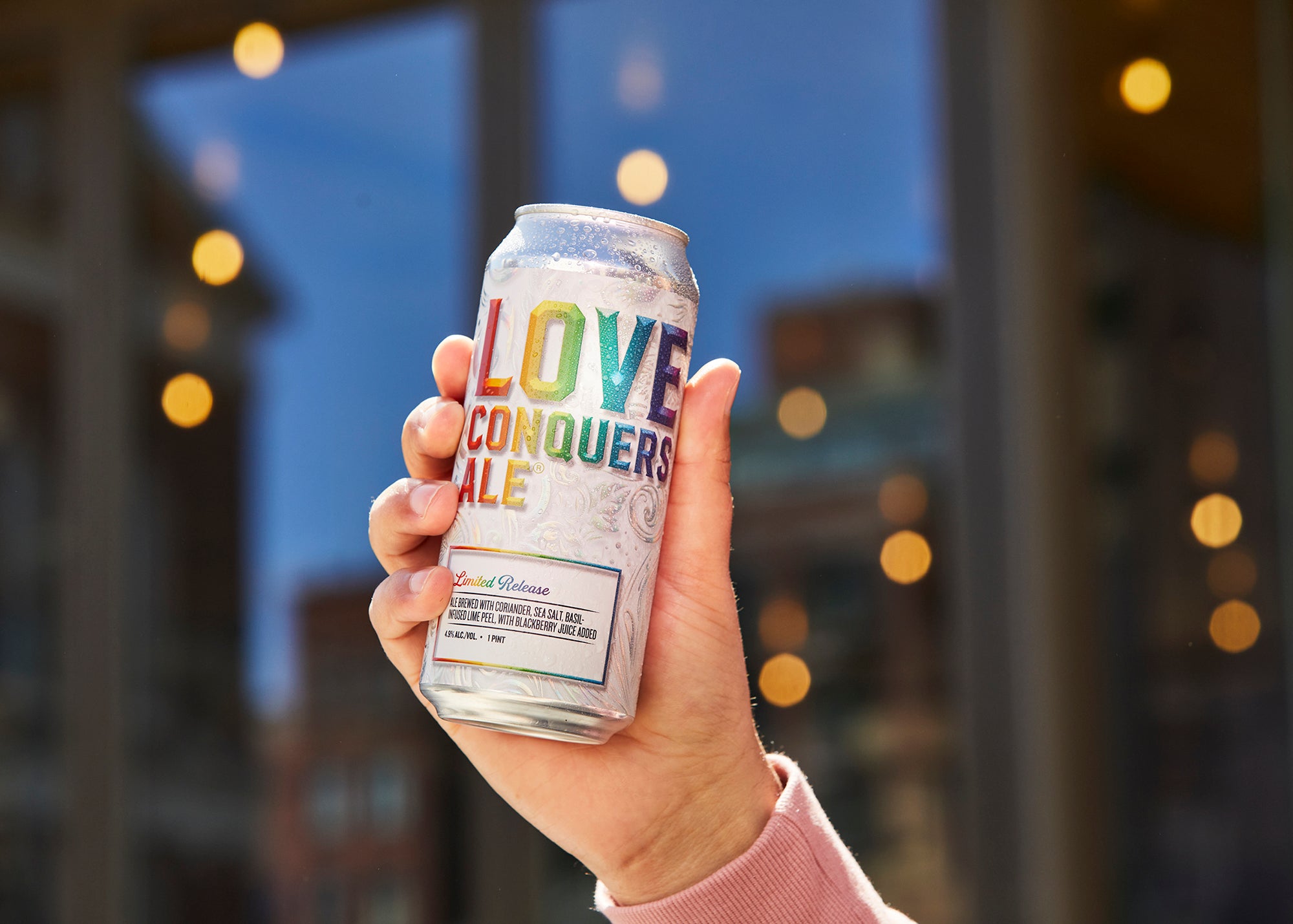 Love Conquers Ale from Sam Adams and New Belgium. – Samuel Adams
Love Conquers Ale, a blackberry, basil and lime gose made by Sam Adams and New Belgium, is back another year to celebrate Pride. Throughout June, the brewery will donate $ 16 for every four-pack of ale sold to GLAAD. Find the limited edition in the brewery's taprooms in downtown Boston and Jamaica Plain.
In January, the South End wine shop The Urban Grape hired one of its Wine Studies Award interns, Amanda Best, to help create an LGBTQ + Producers Collection. Launched in late May, the collection mirrors the shop's BIPOC Producers Collection and includes wines from Gary Farrell Vineyards, beer from Dorchester Brewing Co., and bourbon from Republic Restoratives. To give something back to the LGBTQ community, 10 percent of the sale of the collection goes to BAGLY.
The Pride T-shirt by Trillium is clean and simple: a white shirt with "Trillium" printed in rainbow colors. Place an order through the brewery's online merch store for pickup at one of their locations; The proceeds will be donated to Fenway Health, an organization that offers LGBTQ advocacy and health access.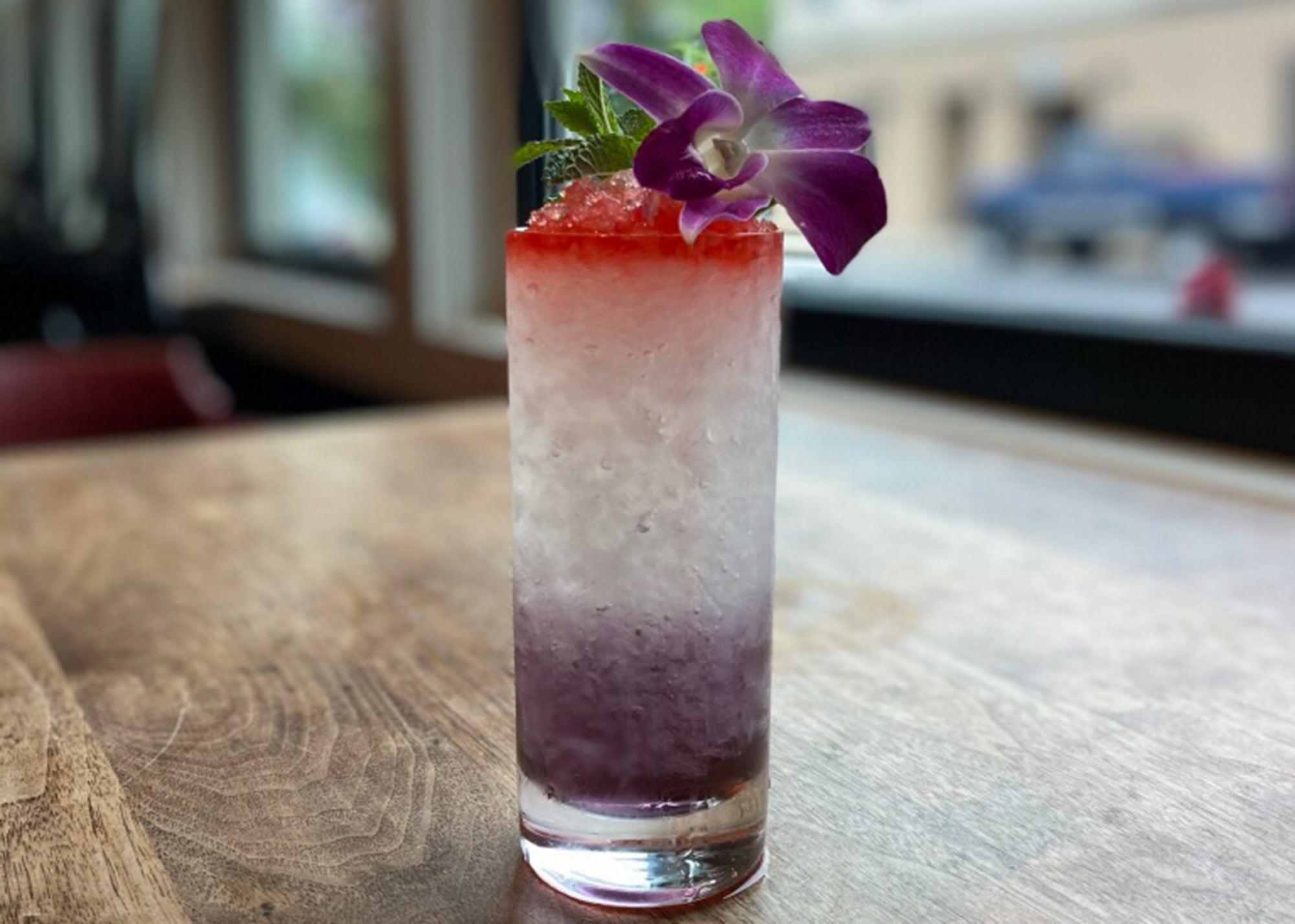 The Rainbow Swizzle at Woods Hill Pier 4th – Handout
Together with sister restaurants Woods Hill Table and Adelita in Concord, Woods Hill is honoring Pier 4 at Seaport Pride with The Rainbow Swizzle, a gin-based cocktail made with maraschino liqueur, lemon and creme de violette. One dollar from every cocktail sold is donated to BAGLY.
Subscribe to Newsletter
Stay up to date with the latest news from Boston.com