Aiming at locals and visitors alike, these hotspots serve up homemade pasta, fresh sushi and more.
Foodies and restaurant newbies alike love The Feed. Sign up now for our twice-weekly newsletter.
If the words "hotel restaurant" conjure up images of overcooked scrambled eggs being dished out in tired dining rooms, you've clearly been away for a while. Home to some of the city's most talented chefs—and exquisitely designed for ambience and comfort—the dining spaces at Boston's finest hotels offer a dining experience to match the luxurious accommodations. Here are nine worth trying.
Bar Enza
The opening of Bar Enza at the Charles Hotel was certainly a moment to come full circle for Belmont native Mark Ladner, who gritted his teeth at local restaurants including the original Olives in Charlestown before embarking on a year-long stint in renowned restaurants in New York City began. Now back in the Bay State, the renowned chef serves big flavors in Italian dishes like monkfish scallopini, lemon ricotta gnocchi and his signature 100-layer lasagna — complete with mozzarella crema and spicy provolone.
One Bennett St., Cambridge, 617-661-5050, bar-enza.com.
colette
Deeply romantic with its rose-tufted banquettes, floral wall coverings and soft lighting, this alluring bistro inside the Porter Square Hotel has Date Night written throughout. But Colette, run by the team behind Frenchie in the South End, offers more than just a swanky venue for your next Hinge meetup. The restaurant also impresses with its hearty selection of French dishes (such as the vol au vent with duck confit and mushrooms) and an extensive wine list.
1924 Massachusetts Ave., Cambridge, 617-576-2222, colette1924.com.
countess
It was big news when the closed Taj Hotel reopened as the Newbury Boston after a lengthy renovation – and with a fresh restaurant to boot. Boasting some of the most sought-after (and hardest-to-book) tables in town since its debut in 2021, Contessa never fails to impress diners with its world-class Italian cuisine, not to mention its novel rooftop location. Start with the octopus agrodulce or the imported burrata, then dig into the rigatoni carbonara. You'll be grateful for a full belly as you sip a cardinale and take in the skyline views.
Three Newbury St., Boston, contessatrattoria.com.
flirty
Located at the Omni Boston Hotel in the Seaport, Coquette is a real treat for the senses. How else to describe a bar and restaurant where over-the-top floral installations and red glass chandeliers, among other design flourishes, set the backdrop for savory Spanish and French-inspired dishes? Order the sticky boar ribs or jambon flatbread with Roncal cheese, and don't forget to check out the murals by local artists Erica Hagler and Julia Purinton—a feast for the eyes if we've ever seen them.
450 Summer St., Boston, 617-419-8140, omnihotels.com.
Hojoko
Rock memorabilia, vintage blow-dryers, and colorful graffiti-style artwork lend a playful vibe to this Japanese izakaya, which is linked to the equally quirky Verb Hotel. Grab a seat at one of the few dining areas, including a poolside terrace, and try to forgive yourself if you have trouble choosing from Hojoko's mass of tantalizing dishes: fried karaage chicken thighs, shiitake mushroom tempura, Rolls and one of the best Wagyu burgers in town all have a place on the menu.
1271 Boylston St., Boston, 617-670-0507, hojokoboston.com.
Oak long bar + kitchen
If you've ever set foot in the Fairmont Copley, you already know that stepping inside the historic hotel, first opened in 1912, is a little like stepping back in time at best. Appropriately, the Oak Long Bar + Kitchen, the on-site restaurant, offers a similar vibe. Settle into a leather chair at the 85-foot-tall copper bar and admire the carefully restored oak carpentry while contemplating dishes like Chatham mussels in plum and tomato sauce and steak fries.
138 St. James Ave., Boston, 617-585-7222, oaklongbarkitchen.com.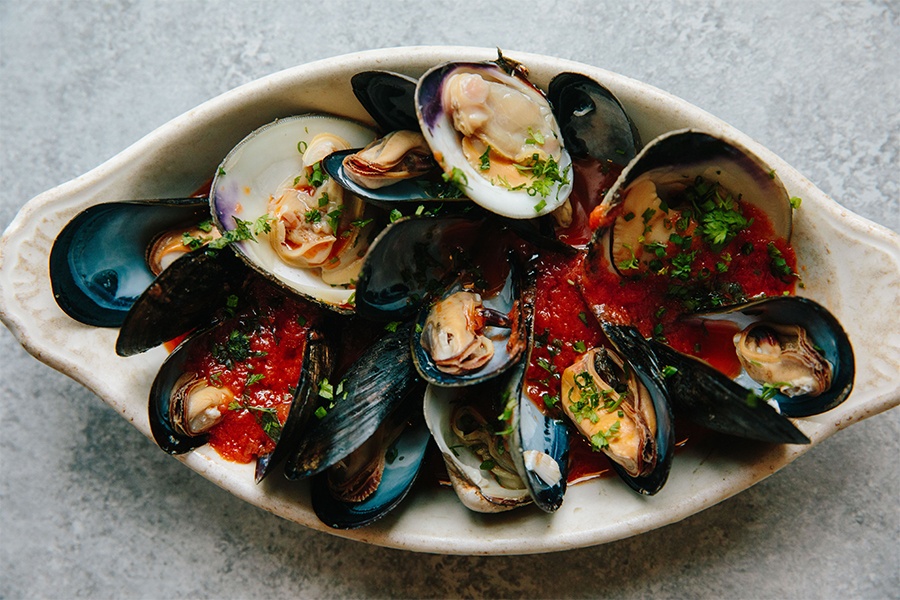 walker
At Peregrine, just off the lobby of the Whitney Hotel in Beacon Hill, Mediterranean coastal cuisine is always on the agenda. There, you can count on owners Joshua Lewin and Katrina Jazayeri — who also run Juliet in Somerville — for quaint dishes like radicchio with vermouth-soaked raisins or fregola paella with clams, clams, and shrimp. Looking for brunch? On that front, too, the duo are happy to oblige with dishes like Pomodoro Baked Eggs — a zesty concoction of Grana Padano cheese and chili flakes.
170 Charles St., Boston, 617-826-1762, peregrineboston.com.
Ramsay's kitchen
Long known for its outstanding spa, Mandarin Oriental gave Bostonians a new reason to travel to Boylston Street when it began welcoming diners to this sprawling restaurant in early 2022. Led by celebrity chef Gordon Ramsay, known for Hell's Kitchen and MasterChef, the team whips up everything from seared scallops and warm lobster rolls to baked mac and cheese and Beef Wellington – all served in elegant dining rooms steeped in nods to local design.
774 Boylston St., Boston, 857-289-0771, gordonramsayrestaurants.com.
University
We've been saying it for years, but it's worth repeating: This little sashimi counter at the Eliot Hotel has been converted into a bustling izakaya, churning out some of the best Japanese food while enticing curious eaters into its atmospheric dining room its extensive menu includes creative sushi dishes and alcoholic cocktails. your best bet? Bring a group of your favorite dinner companions together so you can sample as many morsels as possible (think crab butter fried rice, sea bass sashimi, and foie gras nigiri).
370 Commonwealth Ave., Boston, 617-536-7200, uni-boston.com.