Where to find oysters, Tex-Mex, Belgian-style fries, and more in one of New England's best food cities.
Devoted foodies and restaurant newbies love The Feed. Sign-up now for our twice weekly newsletter.
If you love food and live in New England, you've got to make your way to Portland, Maine, which has been a nationally noted culinary destination for years thanks to the countless food-scene innovators that have called the city home. And it's not all simple lobster rolls and raw oysters on the half-shell—though there are, of course, plenty of places doing those flawlessly. Up in the Pine Tree State's largest city, the offerings really run the gamut: pan-Asian noodles, Belgian-style fries, Southern barbecue, Japanese-style izakayas, and more are all awaiting if you seek them out. To help, we've pulled together our top picks in Portland, with something to please both newbie tourists and return visitors hankering for something unexpected.
This guide was last updated in August 2023; stay tuned for periodic updates.
Bar Futo
At this 2023 newcomer, binchotan-grilled bites on skewers beckon, alongside small chilled and hot plates. Must-try skewers (with three or four bites a pop; plan on getting several) range from the more traditional—like the grilled fish with ginger sauce—to the fushion-y "Big Mac" skewer with house special sauce. Order the crispy tofu hot plate as well, which includes three generous chunks of tofu topped with schmaltz (rendered fat that offers a punch of salt) and a soy egg with a jammy yolk, all in a bowl of dashi so perfect you'll want to sip it by the gallon even on the hottest nights. Explore the novel-length sake menu, too, which ranges from staid canned offerings to the savory-leaning (if downright bonkers-but-delicious) options like the smoky and vegetal Yamada Shoten Everlasting Roots Tokubetsu Junmai.
Bar Futo, 425 Fore St., Portland, Maine, 207-956-7373, eatfuto.com.
Central Provisions
Chef Chris Gould's wildly popular Central Provisions has a very simple organizing principle for its menu of small plates: raw, cold, and hot. From there, though, the frequently changing selection unfurls to accommodate wide-ranging tastes—Spanish chopped salad with candied chorizo; bluefin tuna crudo; bone marrow toast with red onion jam—making it an ideal place to bring a group of adventurous eaters up for a little bit of everything. (There's also a surprisingly extensive caviar selection under the menu heading "make it boujiee," plus a feast of foie gras.) Waits are common, but you can always head downstairs to the buzzy bar to pass the time. Also check out its sibling spot, Tipo, for pastas and pizzas.
414 Fore St., Portland, Maine, 207-805-1085, central-provisions.com.
Chaval
The married team of Damian Sansonetti and two-time James Beard Award nominee Ilma Lopez operates this beloved brasserie off the beaten path in the West End, highlighting Spanish and French seasonal fare. Menu-wise, the selection varies daily, but everything from classic patatas bravas to coq au vin or olive-oil poached local cod is on the table (and served on the expansive patio with its heat lamps and fire pit). For the fullest experience, be sure to kick off the meal with an aperitif from the more-than-solid vermouth selection. Younger sibling the Ugly Duckling opened half a mile away in 2023, and you can float on over to the petite luncheonette for coffee, pastries, and sandwiches.
58 Pine St., Portland, Maine, 207-772-1110, chavalmaine.com.
Duckfat
This small sandwich spot in the Old Port sets itself apart by centering the most beloved deep-fried potato product: the French fry. Hand-cut, fried in duck fat, and served up in a cone of delightfully grease-soaked parchment, they're delicious enough to build a reputation on alone—although it certainly doesn't hurt to serve them with sauces like truffle ketchup and "atomic horseradish" mayo (better yet, a "flight" of all five sauces), or to proffer them in the form of poutine, replete with duck gravy and locally sourced cheese curds. The rest of the menu is great, too—the paninis cover everything from a Montreal-style Reuben to a Cubano sandwich with house-smoked pulled pork, plus you'll find milkshakes in flavors like vanilla bean and sea salted duck fat caramel. They have wonderful salads too, but come on, live a little.
43 Middle St., Portland, Maine, 207-774-8080, duckfat.com.
Eventide Oyster Co.
Co-owners Andrew Taylor, Arlin Smith, and Mike Wiley made a splash on the restaurant scene of Portland (and, arguably, the entire region) when they opened Eventide Oyster Co. in 2012. Five years later, they opened a smaller Boston branch in Fenway, but to this day, no food fan's trip to southern Maine would be complete without a visit to the original. First and foremost, Eventide pays homage to traditional American oyster bars with 14 varieties available on the half-shell—but the rest of the menu is really destination-worthy, too, offering elevated New England seafood dotted with pan-Asian influences. (Think: a ginger-scallion tuna crudo with tare, a sweetened and thickened soy sauce, and sides of house-made kimchi that balance the richness of Eventide's famed brown butter lobster roll.) Don't worry if you don't see reservations available online for the busy spot, as most of the seats are saved for walk-ins who wash ashore.
86 Middle St., Portland, Maine, 207-774-8538, eventideoysterco.com.
Fore Street
Fore Street has been a bona fide culinary institution in the city since 1996—and with its dramatic high ceilings, brick walls, and a kitchen decked out with a wood-burning oven, grill, and turnspit that's visible from nearly every seat, it feels like one, too. The menu changes daily and uses as much local produce, meat, and seafood as possible, so in the summer you might find Maine wild blueberries dotting a salad, while roasted rope-grown mussels might be on the agenda in winter. Reservations are available up to two months in advance, and you'll probably need them. Once you arrive, though, just sit back, relax, and feast on the cuisine that's kept Fore Street in the forefront of Portland's dining scene for decades.
288 Fore St., Portland, Maine, 207-775-2717, forestreet.biz.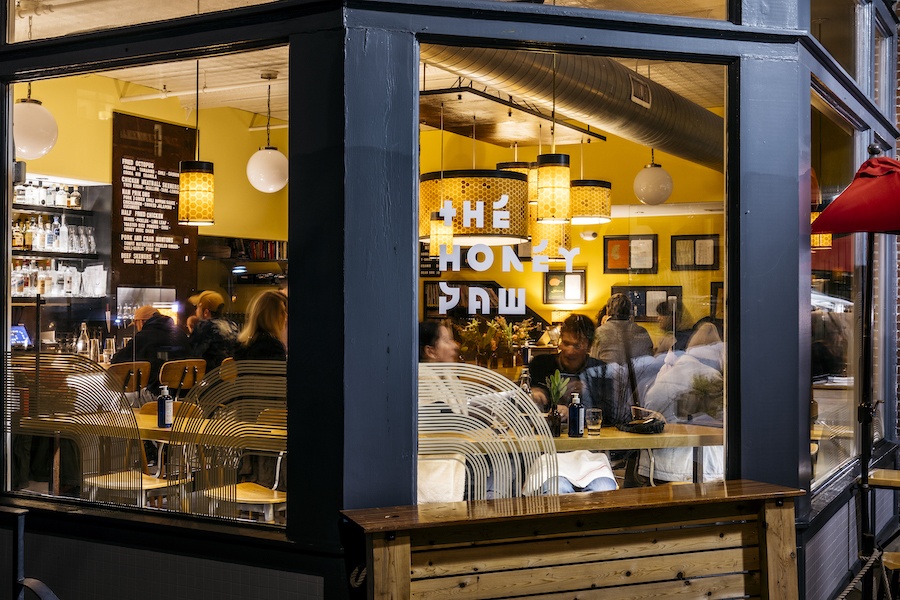 The Honey Paw
Honey Paw could be couched as just a crunchier, vinyl-spinning younger sibling to Eventide—it's owned by the same team and is basically right next door—but the restaurant has made a name for itself distinct from its pedigree. How? With flavor-packed noodle and grain dishes inspired by cuisines from across Asia, from the Sichuan mapo tofu to rice noodles with both braised and sliced rare beef to a coconut-flecked, Thai-style lamb khao soi. On the dessert side, meanwhile, check out the caramelized honeycomb soft-serve. Take note, the space might be best for small parties: It's built around a large communal table and bar seating (plus a petite outdoor patio), which can make it a little challenging for big groups to sit together.
78 Middle St., Portland, Maine, 207-774-8538, thehoneypaw.com.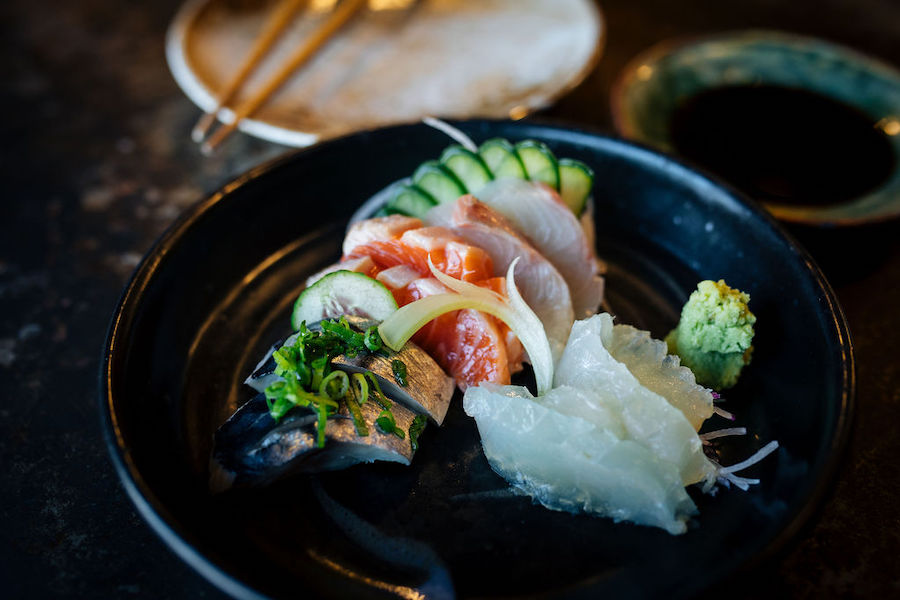 Izakaya Minato
Husband-and-wife duo Thomas Takashi Cooke and Elaine Alden opened this popular Japanese spot on Washington Avenue in 2017, and today keep its menu lean and mean with Japanese specialties like sashimi, udon noodles with duck breast, and okonomiyaki (a large omelet-like dish), plus super-interesting plates like mochi "bacon" and broiled oysters with miso custard. Consider sampling it all with the $42 per-person omakase, a multi-course, family-style meal at the whim of the chef—just don't forget to order a sharable carafe of sake for the table.
54 Washington Ave., Portland, Maine, 207-613-9939, izakayaminato.com.
Lenora
Look to Lenora, which opened in early 2023, for all-day eats in a cool interior swathed in Southwest accents with pinks and earth tones. With a focus on Mexican street food, the new spot has ties to Boston's Lone Star Taco Bar crew. Start the day with a breakfast taco and spring for the house-made chorizo, which packs the right punch of spice. It's best washed down by a snap-you-to-your-senses golden juice of carrot, turmeric, cantaloupe, and orange. Coffees include the tasty cafe con cajeta, espresso with steamed milk and a caramel made of spiced goat milk. Beyond the breakfast menu, the Yucatan fish and the vegetarian taco that features avocado wrapped in a crust of Oaxaca cheese are standouts. The goodies are served on handmade tortillas, with a treasure trove of salsas and sauces on offer.
2 Portland Sq., Portland, Maine, 207-536-0423, lenoramaine.com.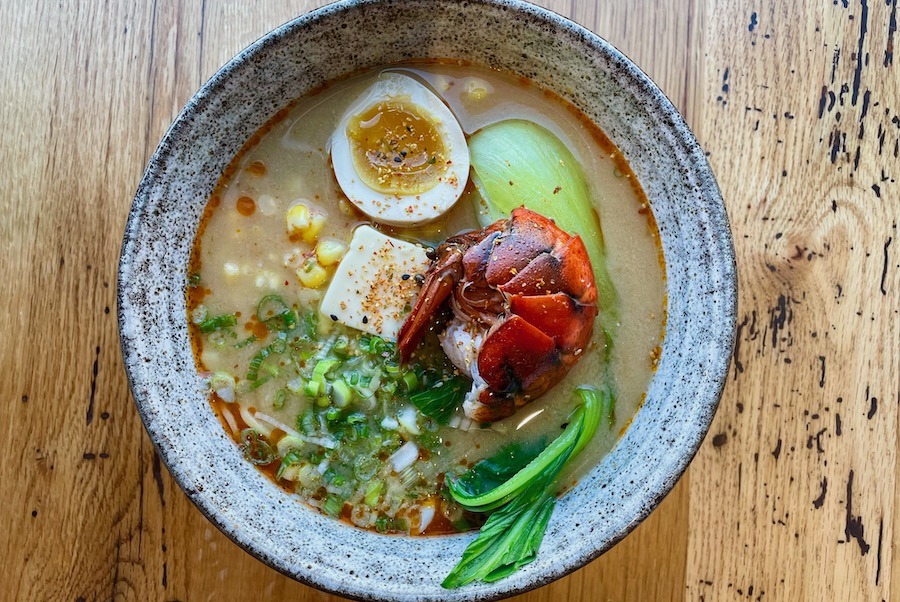 Pai Men Miyake
Pai Men Miyake, the second Portland restaurant from Japan-born chef Masa Miyake, is sibling to the more upscale Miyake (which is thankfully back after closing for a while in 2020), though it's no second-fiddle spot. Dishing out nearly a dozen top-notch varieties of ramen—the paitan, made with chicken and pork broth, is its signature—plus bao buns, donburi, and sushi, Pai Men offers unfussy yet expertly executed fare that's sure to comfort after a long day of seeing the sights.
188 State St., Portland, Maine, 207-541-9204, miyakerestaurants.com/paimen.
Papi
It's hard to believe that this Puerto Rican restaurant only opened in early 2023 as it's already such a beloved part of Portland's culinary family. Fitting, too, considering that the offerings draw from the childhoods of founder and executive chef Ronnie Medlock and beverage director LyAnna Sanabria, who grew up in Puerto Rican families in New England, with Medlock often traveling to the island. Start with small bites of beef empanadas and crab croquettes before traipsing to larger offerings of skirt steak with yucca hash and pickled mango, plus traditional salt cod and more. The flan is a dance of innovation and tradition, served with a cheese and Ritz cracker crumble to balance the silky sweetness. Sanabria's cocktails oft employ unexpected elixirs, and—like the bruja sabía with coconut gin, kiwi, Gentian liqueur, and extra dry vermouth—are downright magical.
18 Exchange St., Portland, Maine, 207-808-8008, papiportland.com.
Regards
Regards, which opened in 2022, rollicks to the West Coast for its menu inspired by Los Angeles' Mexican and Asian street food. Chef Neil Zabriskie, who co-owns the spot with his wife Kimberly Lund and business partner Cameron Lewin, also draws from his own Afro-Cubano and Polish heritage. Much of the menu highlights masa, the dough used to make tamales, tostadas, and tortillas. The painstaking process—local flint corn from is soaked overnight and then ground daily—produces a deep flavor that boosts shrimp tacos and other beauties. Pristine bites on the seasonally shifting menu might include wagyu beef tartare with black trumpet mole sauce and oysters topped with smoked trout roe and yuzu kosho mignonette granita.
547 Congress St., Portland, Maine, 207-747-5940, regardsmaine.com.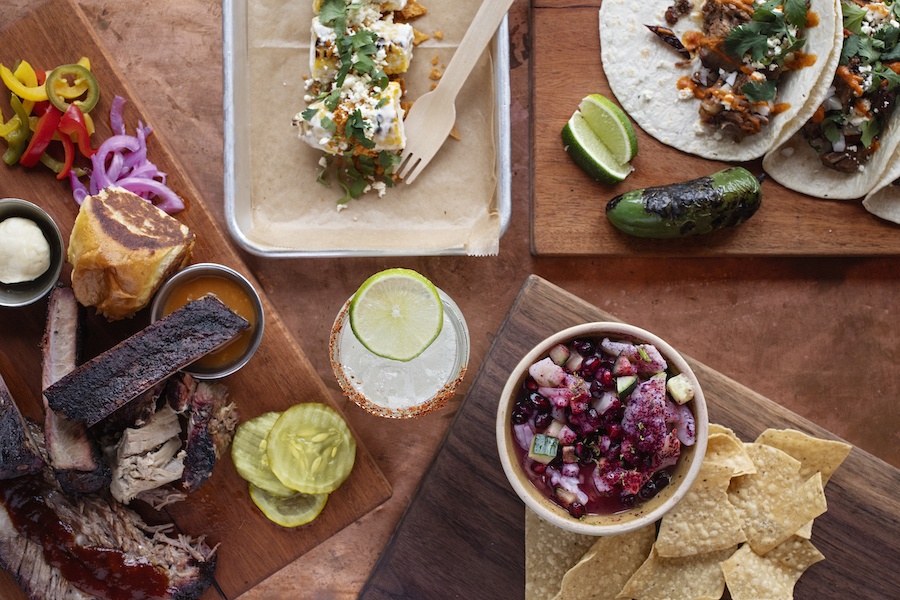 Terlingua
After visiting all the waterfront restaurants in Portland, you'll probably need a solid break from seafood. For that, turn to Terlingua in East Bayside, which combines Texas barbecue and Latin American cuisine to great effect: Think tacos with smoked brisket and pork carnitas on homemade tortillas, or a barbecue board of house-smoked meats and sides of bacon-dotted corn with lime aioli. If the heated outdoor deck doesn't warm you up, the margaritas and mezcal will do the trick—and you can even take home some treats from Terlingua's on-site market, stocked with large cuts of smoked meat, locally sourced foodstuffs, and growlers of to-go margaritas.
40 Washington Avenue, Portland, Maine, 207-956-7573, terlingua.me.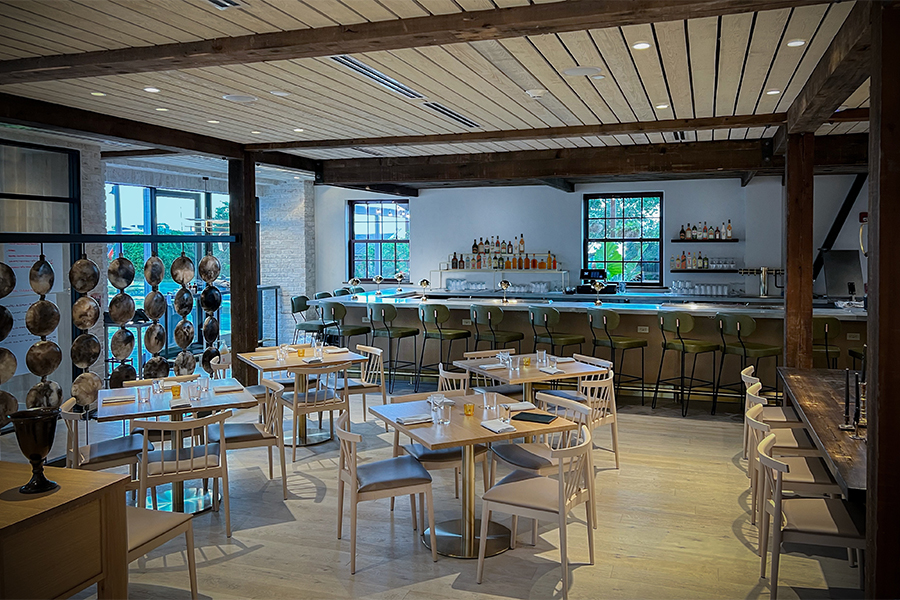 Twelve
With a little luck you'll snag reservations at this modern New England spot, which opened in summer 2022 in a painstakingly reconstructed brick building. What's all the fuss about? Four-course prix-fixe feasts of cured halibut with green olive and sorrel, Atlantic cod with carrot bisque graced by Jonah crab, and New York strip steak rounded out by Hasselback potato and black garlic. The menu changes frequently, but what's unchanging is the dedication for showcasing the beauty of in-season, local ingredients.
115 Thames St., Portland, Maine, 207-910-7400, twelvemaine.com.